Tivnu thanks these foundations, which have supported our work:
Jacob and Hilda Blaustein Foundation
Nathan Cogan Family Fund of the OJCF
Gimprich Family Foundation
Holzman Foundation
The Jewish Social Change Matching Fund of the Jewish Funders Network
The Joshua Venture Group
Lippman Kanfer Foundation for Living Torah
The Gottesman Fund
The Jewish Federation of Greater Portland
Meyer Memorial Trust
Oregon Community Foundation
The Oregon Jewish Community Foundation Giving Circle
The Oregon Jewish Community Youth Foundation
Leonard & Lois Schnitzer Charitable Supporting Foundation of the OJCF
UpStart Foundation
Zidell Family Foundation
Lisa and Douglas Goldman Fund
Thank you to the educators, activists, rabbis, and Jewish community professionals who support Tivnu: Building Justice. The insights and energy of this community enrich our program and further its growth.
Vicki Abeles, Director, Race to Nowhere and Beyond Measure
Rabbi Ruth Abusch-Magder, PhD, Be-chol Lashon, Rabbis without Borders Fellow
Merrill Alpert, Far West Region USY
Rabbi Jeff Amshalem, Senior Educator, Ayeka
Rabbi Sarah Bassin, Temple Beth Emanuel
Tobin Belzer, Contributing Fellow at Center for Religion and Civic Culture, University of Southern California
Jamie Beran, Bend the Arc
Rabbi Daniel Brenner, Moving Traditions
Rabbi Fred Scherlinder Dobb, Adat Shalom Reconstructionist Congregation
Gary Dreiblatt, Abraham Joshua Heschel School
Abigail Falik, Global Citizen Year
Dr. Pinchas Giller, American Jewish University, Chair, Jewish Studies Department
Laila Goodman, Gann Academy
Tresa Grauer, Ph.D., Jewish Reconstructionist Communities
Leslie Grossman, Director of Admissions, Oak Meadow School
Andrea Hodos, Moving Torah & NewGround
Prof. Amy Hungerford, Yale University
Rabbi Rachel Joseph, Congregation Beth Israel
Rachel Kest, Jewish Federation of Greater Rochester
Cantor Becky Khitrik, Temple Beth Zion
Dr. Helen Kim, Whitman College, Department of Sociology
Max Klau, City Year, Inc.
Idit Klein, Keshet
Dr. Jeffrey Kress, Jewish Theological Seminary, School of Jewish Education
Michelle Lackie, Weinberg Tzedek Hillel
Rabbi Gilah Langner, Kol Ami Northern Virginia Reconstructionist Community
Noah Leavitt, Chair, Walla Walla Council on Homelessness
Abby Levine, Jewish Social Justice Roundtable
Rabbi Judd Kruger Levingston, PhD, Jack M. Barrack Hebrew Academy, Director of Jewish Studies
Julie Lythcott-Haims, Author, How to Raise an Adult
Aaron Mandel, Tzedek America
Or Mars, Wexner Graduate Fellowship
Ruth Messinger, Global Ambassador, American Jewish World Service
Eric Mlyn, Ph.D., DukeEngage
Nati Passow, Jewish Farm School
Daniel Petter-Lipstein, Jewish Montessori Society, Chief Love Officer
Ami Petter-Lipstein, Jewish Montessori Society, Executive Director
Rabbi James Ponet, Yale University, Jewish Chaplain Emeritus
Rabbi Eve Posen, Congregation Neveh Shalom
Prof. Rob Reich, Stanford University, Director, Center for Ethics in Society
Rabbi Joshua Rose, Co/Lab: Re-imagine Jewish
Rabbi David Rosenn, Hebrew Free Loan Society
Steven D. Rudman, Home Forward
Rabbi Stephanie Ruskay, Jewish Theological Seminary
Shamu Fenyvesi Sadeh, Ph.D., Adamah
Rabbi Isaac Saposnik, Camp Havaya
Rabbi Sid Schwarz, Clal & PANIM
Sara Shapiro-Plevan, Rimonim Consulting
Prof. Nancy Sinkoff, Rutgers University, Depts. of History & Jewish Studies
Rabbi Abby Sosland, Schechter Westchester, Spiritual Advisor
Jodi Sperling, Camp Kingswood
Rabbi Jon Spira-Savett, Temple Beth Abraham
Rabbi Toba Spitzer, Congregation Dorshei Tzedkek
Professor Alon Tal, Ben-Gurion University of the Negev
Rabbi Ronit Tsadok, IKAR
Rabbi Deborah Wechsler, Chizuk Amuno Congregation
Dr. Jonathon Weiler, University of Northern Carolina at Chapel Hill
David Weinstein, Camp Tel Yehudah, Young Judaea
Taking a gap year in the US can be as meaningful as doing one abroad.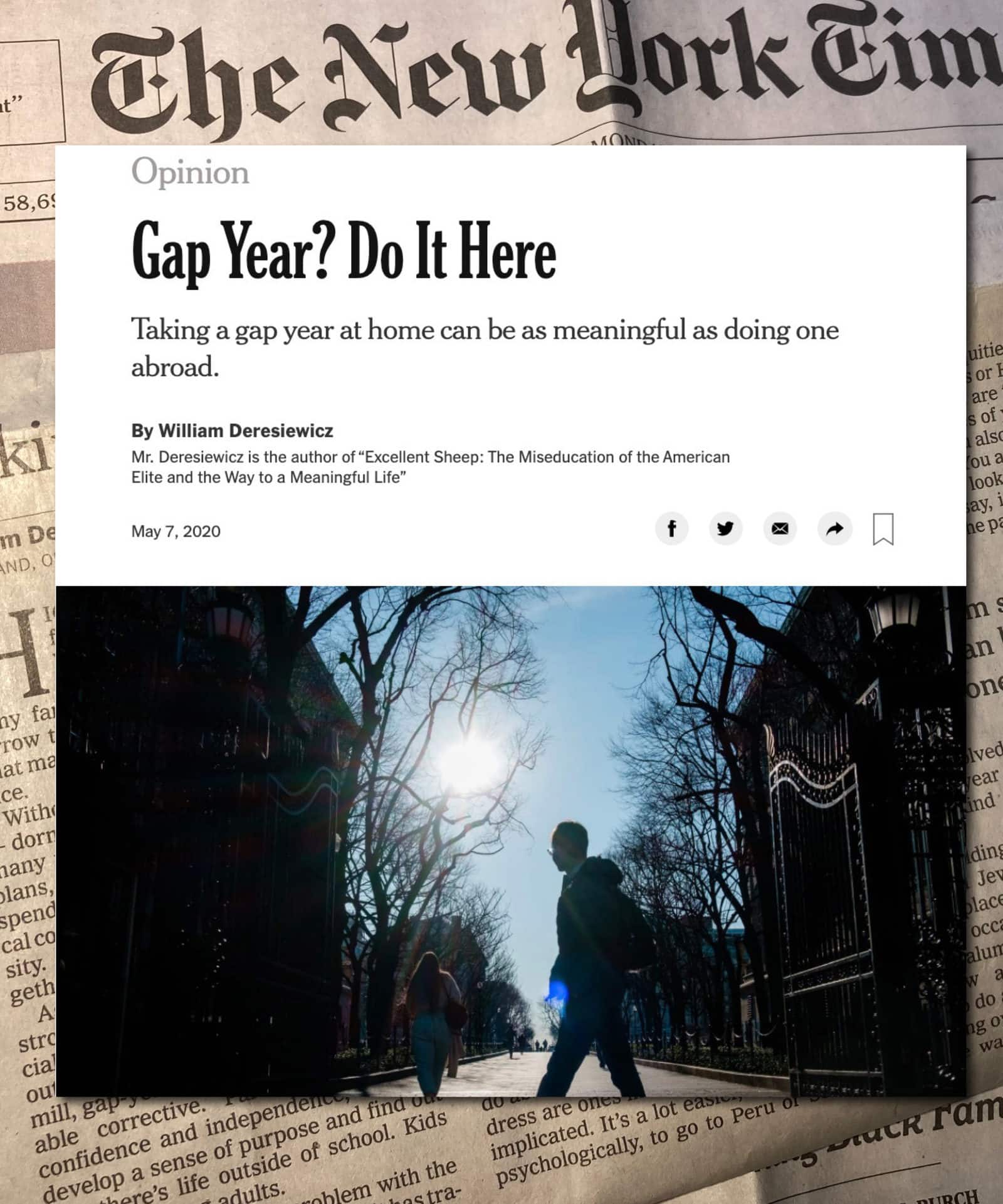 Featured in The New York Times
Real life, real challenges, real accomplishments