What we mean by "tools to build a better world"
This year is not just about building homes for the unhoused: it's about working alongside the person who is going to live there — building a relationship. It's not just about serving meals at the dining-with-dignity cafe: it's about putting your Tivnu learning into action lobbying for food justice — serving a purpose.
The tools you need for this kind of impact aren't always physical.
Facing The Challenges of our World
Grassroots Internships
More than two dozen opportunities, and an individually-designed program for each participant — from houselessness to food justice: wait till you see the work you can do
Education + Exploration
Explore every dimension of today's social challenges, from personal to systemic — and lots of ideas to solve them: because our education program isn't for a grade — it's for the real world
Community Connections
What does it mean to live a life that's connected to others? It means that when a challenge arises, Tivnu is there: whether it's a push for a ballot initiative or a set of hands at Outgrowing Hunger
One week, your favorite Tivnu experience might be installing a wheelchair ramp at a homeless village. The next week, it might be an eye-opening meeting with Oregon Innocence Project founder Aliza Kaplan. After that, it might be tracing the indigenous fishing culture through the Columbia River Gorge. We try not to play favorites, because for Tivnu, they're all part of our 360-degree look at social justice in the real world. It's like Sophia N. told us: "You can't talk about housing as a problem without talking about the racial justice that's tied to housing; you can't talk about racial justice without talking about gender equality. Discovering how everything is linked has been fascinating."
Frequently Asked

Questions
We welcome applicants from every background. A lot of our program engages Jewish sources, values, history, and rituals, and we ask all participants to take part, regardless of their connection to Judaism. If that sounds good, we're happy to talk about how that would look for you.
Everyone should be comfortable and well-fed at all our communal meals, regardless of allergies, medical or ethical diet, etc. Individual food requests are typically part of our weekly shopping budget. Our bayit kitchens also maintain a standard of kashrut that keeps us grounded in Jewish traditions of ethical eating and historical connection, and allows us to welcome all kinds of Jews into our dining room.
You can do this! Our program is specifically designed for people of different skill levels, and our construction coach works with everybody, novices to experts. Even if you have no building experience, you'll be able to participate fully, learn construction skills, and gain strength and self-confidence. Plus, you'll get to meet some of Portland's most inspiring makers, from hands-on engineers creating tools for the space program to artists working by hand in wood and metal.
We get it — it's a pretty common feeling for people who are new to this work. The best thing we can tell you is what Tivnunik Noah J. told us: "In all the months of working at Hazelnut Grove (a tiny house village of formerly houseless folks) I never felt uncomfortable because the residents always greeted us with smiles, and made us feel welcome by asking us how our day was going or by offering us food and drinks. Seeing people who have nothing, or close to nothing act so gracious and inviting made me feel happy and inspired to wake up early and volunteer my time there."
Taking a gap year in the US can be as meaningful as doing one abroad.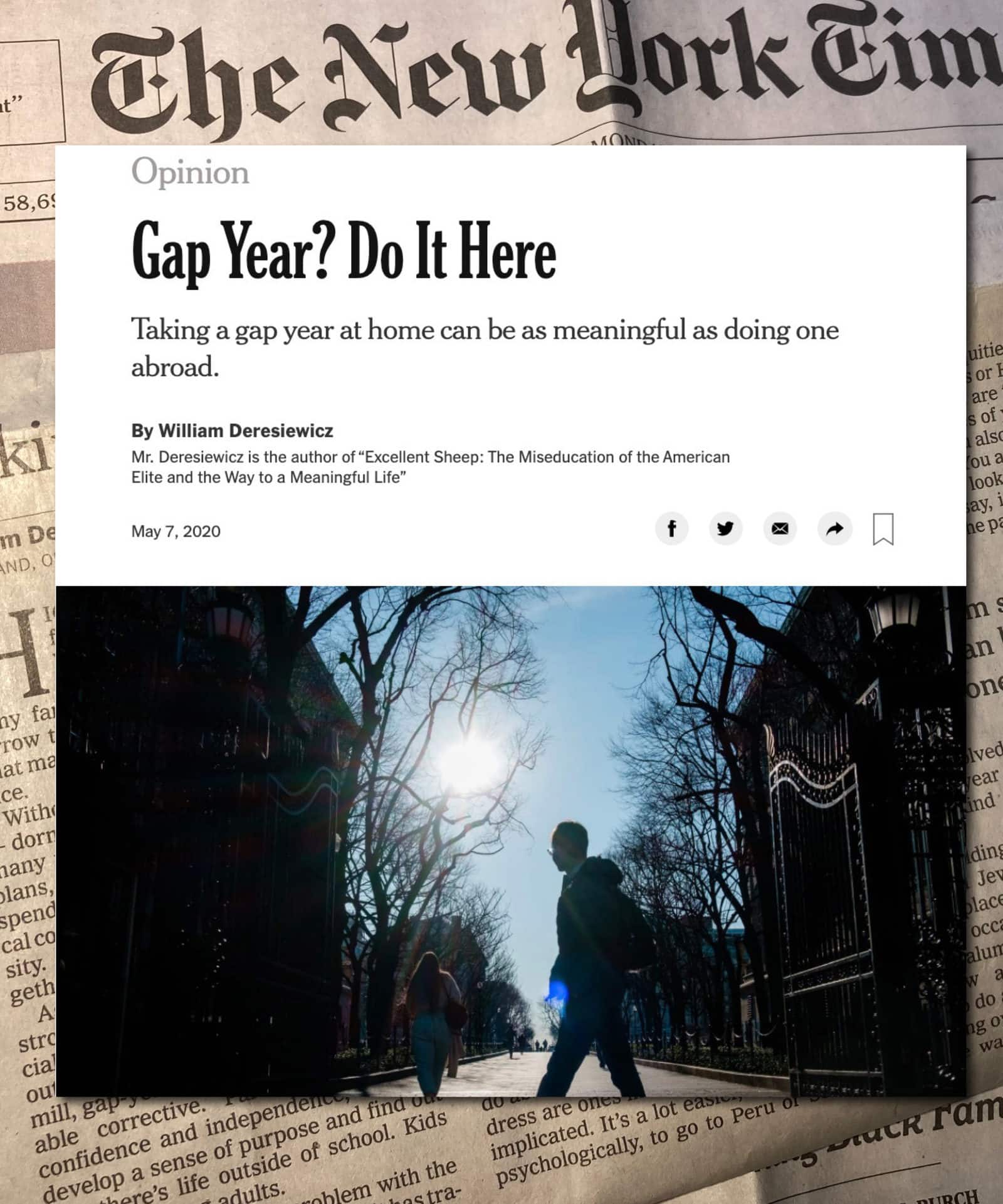 Featured in The New York Times
Real life, real challenges, real accomplishments