We take the safety of Tivnu participants extremely seriously. We have followed extensive and evolving protocols since the emergence of the Covid-19 pandemic. We have developed these procedures in accordance with the Jewish approach to the preservation of life, drive for justice, mutual responsibility, and community-mindedness. And we work hand in (extensively sanitized) hand with our Covid advisory team, which includes medical doctors with an intimate knowledge of the Tivnu program, as well as epidemiologists and other physical and mental health professionals. Please contact us if you'd like to know more.
Our protocols cover six factors so you can be sure Tivnuniks are managing pandemic life wisely and with exceptional concern for medical safety. These guidelines have allowed our program to thrive while many essential services have had to cease or radically curtail the work they can do. We'll talk with all our families about:
Our expectations for vaccination against coronavirus and other medical risks.
Precautions before you come to Tivnu, and how to arrive in (and return to) Portland safely, up to the point where all our participants are safely Covid-negative.
Life in Portland, with the guidance of the State of Oregon, Multnomah County, and the city itself. We'll take advantage of Portland's outstanding outdoor dining options, and a lot of remote-shopping resources.
Internships, which often include in-person interactions as well as travel on public transit. We review safety protocols at each placement, as well as at our awesome remote workspace. You're going to want to bring a lot of masks.
Best practices within the Tivnu houses, where guests will all need vaccinations and masks for any close contact. We'll take advantage of all the mild weather we can, and invite guests to the backyard whenever possible. We expect the same kind of caution when visiting others, too.
Throughout the year we'll make a practice of self-monitoring for symptoms, and regular testing when deemed necessary by our medical team. An isolated bedroom is always available as well as nearby AirBnBs if longer-term concerns arise.
We are happy to share our precautionary medical protocols with you before you apply — just give us a call. When you join the program you'll need to sign off on our policy, and we'll keep you up to date on our evolving pandemic response. Deviating from the policy is, regrettably, grounds for dismissal from the program.
Taking a gap year in the US can be as meaningful as doing one abroad.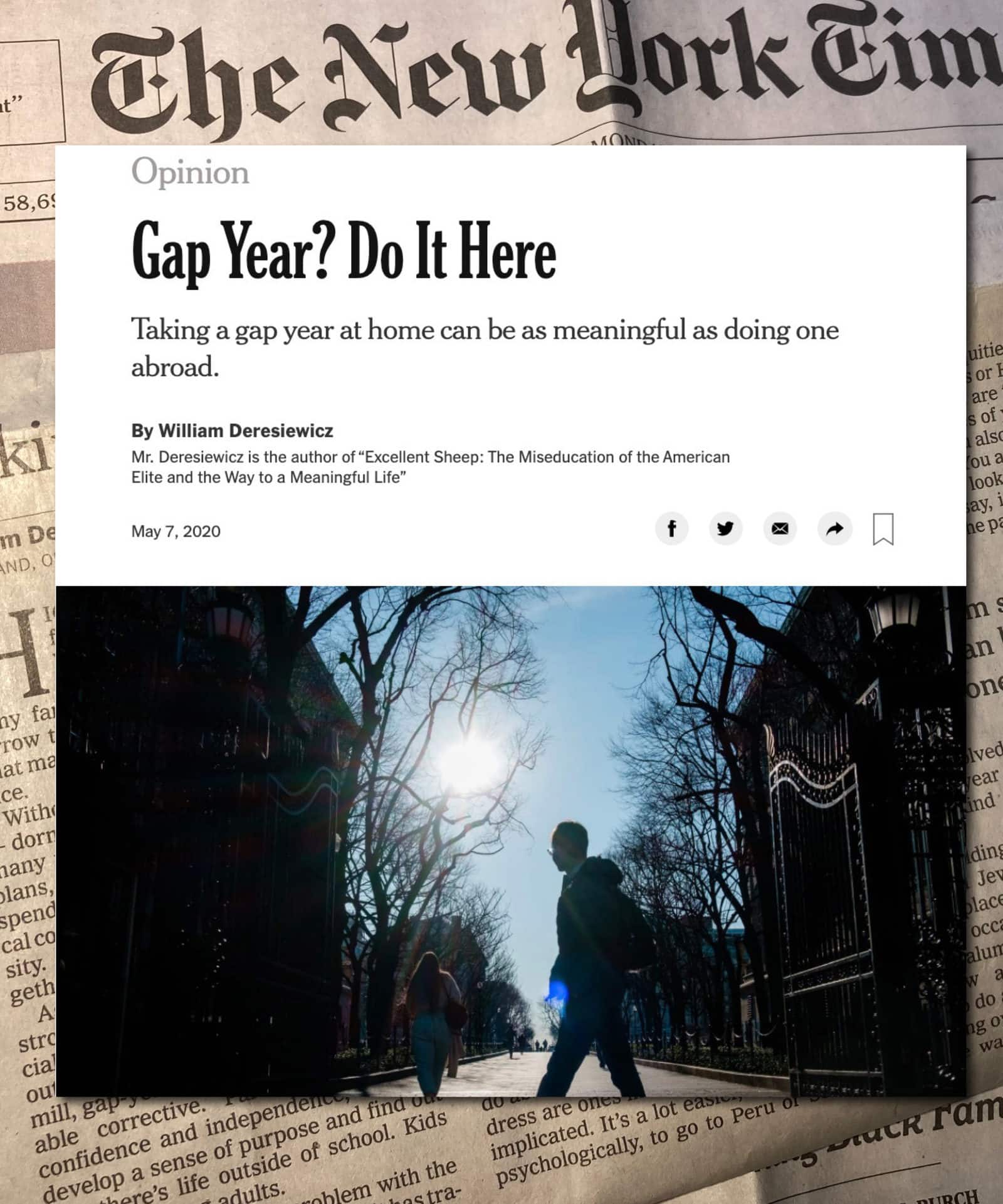 Featured in The New York Times
Real life, real challenges, real accomplishments