Learning that inspires action
Conversations to build the world we need
From root causes to just solutions
Each week we explore today's most pressing social issues with a deep investigation into their origins, current manifestations, and possible solutions.
Challenge your world view
Portland becomes our classroom for a year-long seminar on justice in action. We meet with leading scholars, veteran activists, and local community leaders to broaden our perspective on issues including economic inequality, racial justice, houselessness, workers' rights, migration, LGBTQ rights, and environmental justice. 
Like Bella S. told us, "I especially love the Educational Explorations with guest speakers - they are grounded in their work, and know their subject matter, and are down to earth, and can really answer your questions."
How do we study the roots of a problem? We go to the Fair Housing Council to construct a timeline, from primary sources, of gentrification in Portland's Jewish, Black, and Asian neighborhoods. We sing the songs our grandmothers sang when they were fighting for workers' rights in New York's garment industry. We tour the U of O oral history archives to learn the story of queer communities in Oregon.
How do we ground our learning in realities? We'll use the online simulation Spent to model the tough decisions faced daily by low-income Oregonians. We'll compare current economic safety nets with historic Jewish mutual aid structures. And we'll discuss sanctuary options with migrant workers, and law enforcement policies with politicians and community activists.  
How do we work toward solutions? We practice building with sustainable permaculture techniques. We work with tiny-house villages of formerly houseless Portlanders experimenting with alternate communal living models. We analyze voter suppression, then get out into the streets to help with forward-thinking efforts to bolster voter registration and citizen activism. 
Among those Tivnu has learned from:
Artist Chisao Hata, performer and community organizer, sharing stories of Japanese-American displacement and resilience — an issue with deep and troubling roots in Oregon and the Western US.
Professor Cedric Johnson, leading scholar of race and class in the United States, from the rebuilding of post-Katrina New Orleans to police encounters on today's city streets.
Rabbi Shoshana Friedman: teacher, songwriter, and rabbinic advisor for Dayenu: A Jewish Call to Climate Action.
Portland City Commissioner Jo Ann Hardesty, long-time police reform advocate and former head of Portland NAACP, finding ways for Portland to lead the country with just, appropriate law enforcement. 
Journalist Rebecca Clarren: writing about her great-grandparents' journey from the European shtetl to the South Dakota plains, and the disenfranchised Lakota who lived there. 
Farmer/educator Javier Lara, with the historical lessons of the national Bracero migrant labor program and the contemporary lessons of reclaiming indigenous farming practices.
Professor Aliza Kaplan, director of Lewis and Clark Law School's Criminal Justice Reform Clinic and co-founder of the Oregon Innocence Project. 
Taking a gap year in the US can be as meaningful as doing one abroad.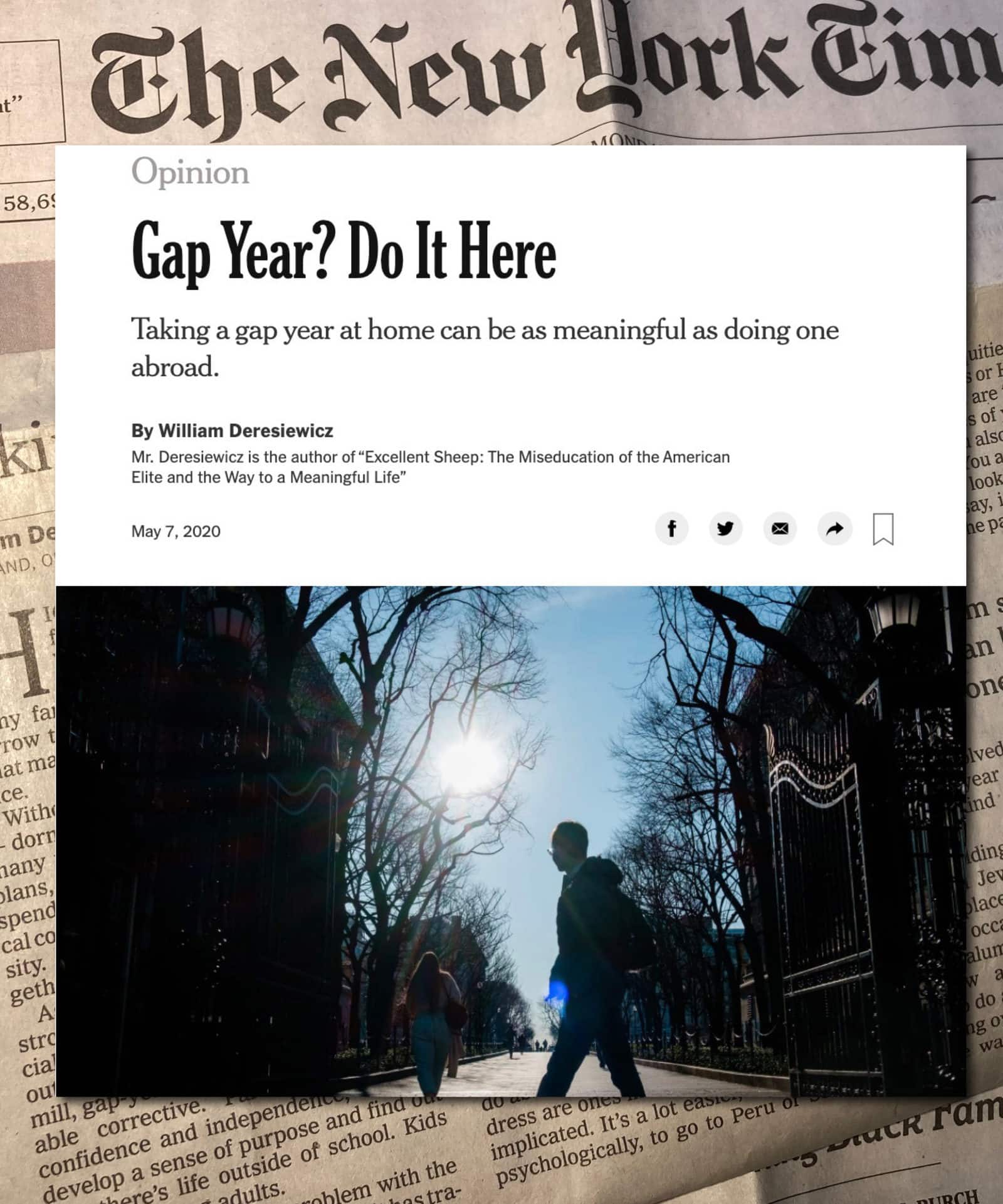 Featured in The New York Times
Real life, real challenges, real accomplishments