At Tivnu, justice is more than a word
We're the most practical idealists you've ever met. Driven by a commitment to justice and Jewish ideals, we put our beliefs into practice through hands-on work in the community. Learn more about what makes us us.
Our common purpose: a better world
At Tivnu: Building Justice, our goal is not to "give" our time and energy to those who are "less fortunate," but to work together with others to create a better world for us all. This is our understanding of service. We believe that it is important for Jews to engage in social justice work not just as individuals, but as members of the Jewish community, and in partnership with other communities.
If we don't all have housing, something's wrong with our home.
We act from the conviction that housing is a human right. It is a cornerstone for a life of stability, dignity, and opportunity. We recognize that access to housing is intertwined with other vital issues, including food security, environmental justice, and the overall health of neighborhoods and communities. Without housing, it is exceedingly difficult for someone to get a job, cook healthy food, or even get enough sleep. The housing crisis is especially acute in Oregon, and the pandemic has only exacerbated it. As Jews, we draw not only on our historical memory of dispossession in confronting this crisis, but also on our centuries-long tradition of mutual aid.
A tradition of commitment
Tivnu draws from many wells: the American labor movement in its respect for physical work and workers, the rich history of American Jewish involvement in feminism, civil rights, and a broad variety of progressive causes, and the many Jewish texts that grapple with issues of communal responsibility.
Tivnu was inspired by the legacies of its founder's extended family whose experiences mirrored those of thousands of other Jews: a kabbalist rabbi in Eastern Europe, an immigrant who repudiated his Judaism to become a communist, a socialist on a municipal ticket, and a Torah-reading, Zionist, staunch anti-communist, activist living in a union-created affordable housing development in New York City. Like everything new, Tivnu is built on the foundation of what came before.
Frequently Asked

Questions
Many colleges now encourage taking a gap year because they recognize that students who take time outside the classroom gain maturity, focus, and confidence, all of which helps them socially and academically. We're happy to connect you with past participants who consider themselves immeasurably more prepared for college having spent a year with Tivnu.
There's no one-size-fits-all solution to our challenges. To do the work well, you really have to know the context well. Among the senior Tivnu staff, we have more than 5 decades of experience in the Portland area and this is the context we know intimately. Plus, we're a city with real problems to work on and extremely creative solutions and non-profit leadership to learn from.
You'll learn first-hand from activists, professors, people confronting challenges themselves, and Tivnu's own educators. It's definitely not school. But if you like to learn how the world really works from those whose expertise comes from hard and thoughtful experience, it's what school should be.
We love it. Every week, Tivnuniks cook and eat dinner together, lead a group conversation about justice in the weekly Torah portion, sing some Shabbat blessings, and share the triumphs and challenges of the week. Sometimes you'll join in with prayers, songs, or other Shabbat activities before dinner, organized by your friends and Tivnu staff. Maybe dinner's a picnic? Maybe it's a themed party with a mystery to solve? It's up to you. Saturday is wide open: go for a hike, pick up lunch at the farmer's market, sing at a synagogue, or just chill after a full week. Ending Shabbat with a Havdalah gathering is a lot of Tivnuniks' favorite part. There are lots of directions a Tivnu Shabbat can go, and we'll check in a few times each year about how we want it to look and feel.
Taking a gap year in the US can be as meaningful as doing one abroad.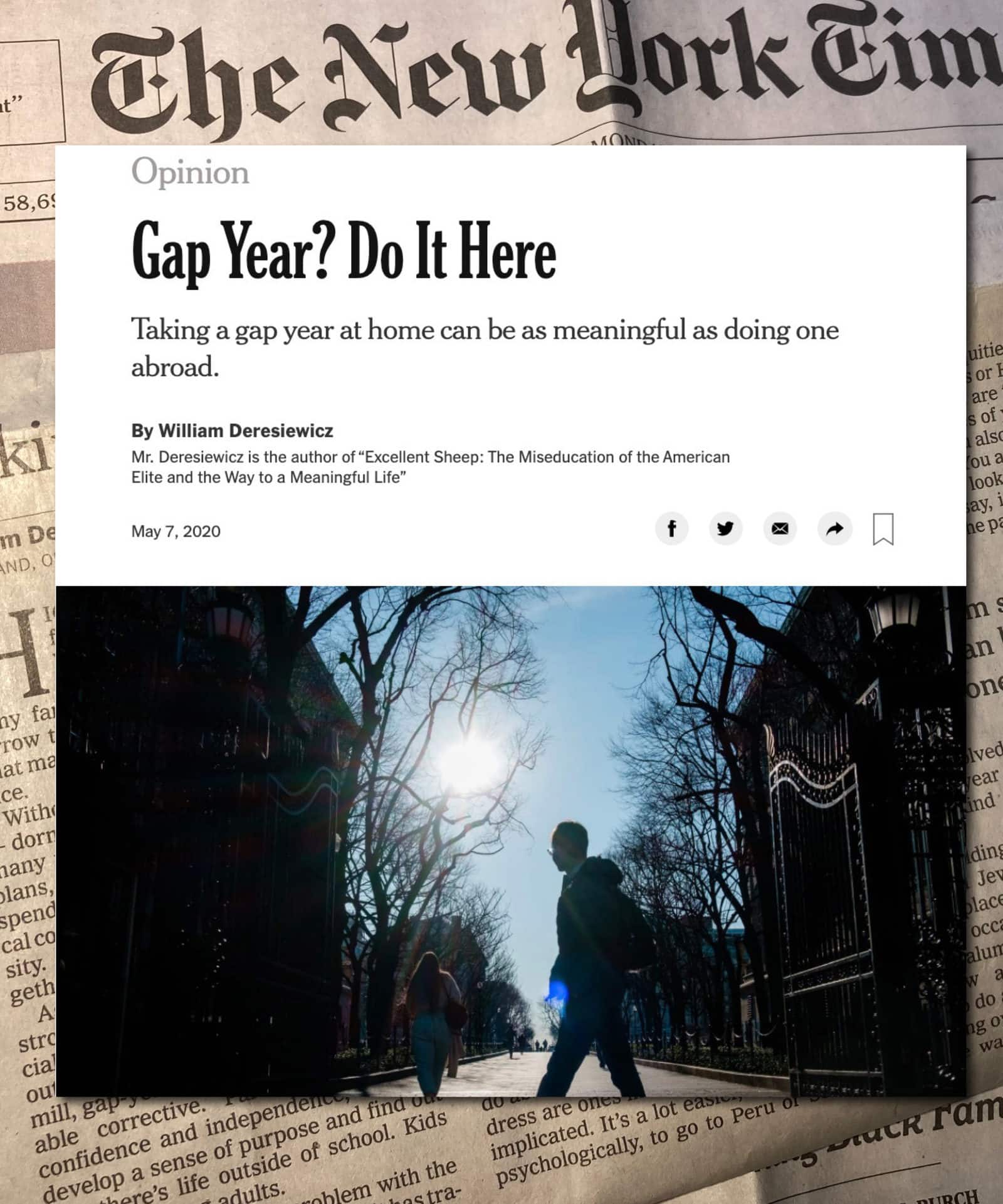 Featured in The New York Times
Real life, real challenges, real accomplishments