The real work and real accomplishments at the heart of the Tivnu program
Creating Your Customized Internship Schedule
Here's where the real work begins. On weekdays, you'll cook meals for people with HIV/AIDS, or grow food with kids in a community garden. You might build shelter for people who need it, or fight for fair wages and workers' rights. We match your passions with the needs of Portland's grassroots organizations, so that you and the community can thrive.
You'll work alongside people who are in the trenches, and each day, you'll go home knowing that you made a meaningful difference in people's lives. We are incredibly proud of the work our participants do. Take a look at all the ways they are changing the world, and all the causes they champion every day. 
Housing and Houselessness
Housing gives people safety and security: it's foundational for all other basic needs
At Portland's organized communities of formerly homeless people like Hazelnut Grove, a tiny house isn't just a novelty you might pop in your backyard. It's 8'x8' of autonomy, independence, and integration into the social and economic life of their intentional community. Tivnu participants – first-time builders, mostly — lay the floors, raise the walls, and install wheelchair ramps to help residents transition to a more settled, productive life. And solar paneling, shower facilities, and communal spaces? We make those, too. Hazelnut Grove houses might be tiny, but ask our friends there. They're immeasurable.
Having the time to sit down at the breakfast table is easy for some families. But if you don't know if you'll be able to afford breakfast tomorrow, and don't know where that table might be, it's hard to imagine life ever taking a turn for the better. Tivnu interns make breakfast at PHFS's overnight shelter, and then they make it possible for whole families to rise up to meet the new day. Our interns specialize in working with kids while parents learn. But first they have to clear the PFHS breakfast tables.
Street Roots isn't just the best street paper in the country, with exceptional coverage of the issues critical to struggling Portlanders. It isn't just the network of 160+ vendors, generating income with each paper they sell, and lending a stable, professional face to a community many find foreign or frightening. It's also the only paper with Tivnu interns helping edit the paper, arranging in-kind donations to support the vendor team, and facilitating poetry-writing workshops to fill the pages every week. Street Roots has a special place in Portland's network of social services (oh, yeah — Street Roots also produces a comprehensive guide to Portland's homeless services!), and Tivnu volunteers' hard work gives them a special place helping those who cannot always afford free speech.
Build foundations, walls, and roofs with Habitat for Humanity. Solutions to families' housing struggles will literally take shape around you as you work alongside the future homeowners. Our Construction Trainer Erik will show you the house-building skills you'll need to assemble single-family homes for first-time owners. Families will contribute "sweat equity." You'll get your own dividend: confidence, resolve, and determination.
Women's, Gender, & LGBTQ Issues
Make Portland a safe and welcoming place for people of every identity and orientation
Trauma, abuse, and disruption of home life always threaten the course of a person's life, but they don't have to define it. Rose Haven is Portland's home for support and services to help women and children regain stability in their lives. Rose Haven staff and Tivnu interns open the doors every day to welcome any woman who needs help, with legal advocacy, medical needs, resumé clinics, and more. Art workshops to help nourish the spirit of a scared kid or tired mom (or a pet turtle, once)? Tivnu interns do that too.
Community doesn't happen by accident — and neither do community centers. The Northwest's largest LGBTQ center is also a place where community gets built one relationship at a time. And so when a member or a newcomer walks in the door, it's especially important to see someone — a Tivnu volunteer, in fact — who is welcoming, enthusiastic, and can connect clients with the Q Center's community resources, affinity groups, and social network. It's how the Q Center and Tivnu make lasting impacts in the lives of everyone they serve, while creating valuable bonds with each other.
Care for people with HIV/AIDS has changed a lot since Our House Portland opened its doors in the bleak days of 1998. There are still Portlanders — like the 14 houseless or otherwise low-income residents — whose independence and accomplishments rely on the services and support they find at Our House. Tivnu participants join the team of volunteers who are available for a conversation, for help connecting with nursing and medical services, and sometime, just frying up breakfast. Each year, 700 residents and clients discover how the values Tivnu and Our House share — compassion, collaboration, and respect — inspire a life that is supported, independent, and lived well.
The Environment & Environmental Justice
Preserve the wild Pacific Northwest, and work toward saving the earth for everyone
Recycling is great. Our partners at the ReBuilding Center show what you can do when you take it one step further. By processing, selling, and supporting the use of salvaged and reclaimed materials, the RC strengthens the environmental, economic, and social fabric of local communities. From de-nailing boards to helping contractors find sustainable resources, Tivnu interns help make it happen.
Portland is shaped by the confluence of the Willamette and Columbia Rivers, but urban life in the city owes just as much of its identity to the sloughs and watersheds that flow through town. Tivnu interns at Columbia Slough Watershed Council take on restoration and stewardship of the river ecosystem with hands-on environmental science and community engagement. In one week you might gather data about conditions in the creek, conduct wildlife surveys, or put on restoration events to remove invasive plants and install native riparian vegetation.
Strengthening a working-class community and protecting the environment go hand-in-hand at Verde, where you might volunteer with a pioneering green landscaping program and help develop community projects. Tivnu workers might set up the classes on sustainable stormwater management, and the next day, swing a shovel to help with the local habitat restoration practicum. The next week it'll be time to make calls for the training seminar on environmental and community advocacy, bringing heathy change to one of Portland's struggling neighborhoods. With Verde and Tivnu, sometimes getting grassroots community to grow starts with getting native plants' roots to grow.
Education & Literacy
Make a good education accessible and inclusive for all
Put yourself back in the classroom as a tutor at Portland YouthBuilders, helping nontraditional learners focus on the skills they need to get good jobs, face the world with confidence, and lead successful lives. You'll help PYB students develop academic, vocational, communication, and leadership skills. Portland YouthBuilders supports young people through meaningful long-term connections, and that goes for Tivnu volunteers as well.
What stands out most from an internship at one of Portland's under-resourced but nonetheless thriving public elementary schools? Will it be the first day of class, when little faces call you "Ms. ____" for the very first time? Or will it be the last day of school, when they hand you their homemade thank-you poster — colorful, heartfelt, and slightly mis-spelled? Something happens in between, for Tivnu volunteers at schools that need your help. During the year "something" might be assistance with reading or integrating technology with the education program. A lot of it will be showing young kids how to grow up to be the kind of person who cares about education, compassion, and responsibility. Tivnu values, every one.
"Lights! Camera! (Social) Action!" What does it take for a young person living on the streets to find their voice, to tell their story? It takes an organization like Outside the Frame, where Tivnu volunteers help with production, outreach, and publicity for screenings and discussions of OTF documentaries and short films. Because OTF and Tivnu both know: if you can direct a film, you can direct your life.
Labor & Immigration
Work with immigrants, workers, and others overcoming the odds
Communities come together with a common factor – it could be a neighborhood, a religion, an ethnicity. If you intern with Portland Jobs with Justice or the Northwest Workers' Justice Project, you'll be building community through the kinds of coalitions that organize rallies, mobilize picket lines, educate about civil rights, and advocate on the street and in the courtroom. What does it take to bring over over 100 labor organizations and community groups together, and build a society based on economic justice? Hard-working Tivnu interns find out while playing a part.
When a new immigrant is looking for work opportunities, they turn to the day laborer center at VOZ, the Workers' Rights Education Project. When you intern here, you and VOZ will build relationships that empower day laborers and immigrants to improve their working conditions and protect civil rights through leadership development, organizing, education, and opportunity. It's worker-led, education-focused, and a path to long-term employment that many laborers need and Tivnu interns can support. At VOZ, laborers sign in for an upcoming job. As a Tivnu intern, you'll sign in to work for justice every day.
When a low-level conviction follows a person around for years, keeping them from getting the kind of job that can support their family, the most important call they can make is to the Criminal Justice Reform Clinic. You might be the person who answers that call, as a Tivnu volunteer. You might accompany an attorney to court for a hearing on clemency, parole, or immigration status. And the files you review might be part of a case for systemic change, demonstrated by the kind of data an individual attorney could never collect, but Lewis & Clark Law School's CJRC can. It's a chance to work on justice for one individual at a time, and just as much, to work for justice one society at a time, too.
Food and Food Justice
Food is what fills your belly, food justice is how a society fulfills its ideals — and you can help with both
Cook the food, serve the meals, and help keep the business – and community – running at Sisters of the Road. Portland has a great café scene: you can get vegan cuisine served in a yoga studio, or a scoop of dill pickle sorbet. But there's only one Sisters, where the homeless and working poor contribute their time in exchange for a meal that adds healthy food to their diet and dignity to their day.
There's a harvest that happens every day in Portland, all year round. Not just at Oregon's farms and dairies, but at restaurants, markets, bakeries, and cafés – who all end the day with unsalable but still edible surplus food. Tivnu interns work with Urban Gleaners to marshal small resources for big impact. Taking in food and preparing it for redistribution to schools, shelters, and low-income housing won't solve the whole food insecurity puzzle for hungry Portlanders, but ever since the Hebrew Bible we have known that there is no solution without it.
At Kindness Farm, Zenger Farm, or Learning Gardens Laboratory, you don't just see the roots of the problems of hunger, health, and food insecurity – you see the roots of the solutions. And we're not just talking about metaphorical roots here: if you intern at Kindness or Zenger or LGL, you'll make sure those actual roots are taking hold in the compost system you built. You'll teach school kids how to keep the plants thriving. And you'll help get the crops they raised home to hungry families and communities that need them.
We work individually with each participant to craft a weekly schedule with one or more internship placements, often addressing a range of social issues in different ways. You might devote Mondays and Tuesdays to your long-standing passion for environmental justice, while Thursdays and Fridays are the days you build tiny houses. 
1000 hours: that's the amount of time you will devote to your internships over the course of the year. This isn't a one-shot deal. This is becoming part of the community at the places where you work, building lasting ties and seeing the difference you make in people's lives, and they make in yours.
Taking a gap year in the US can be as meaningful as doing one abroad.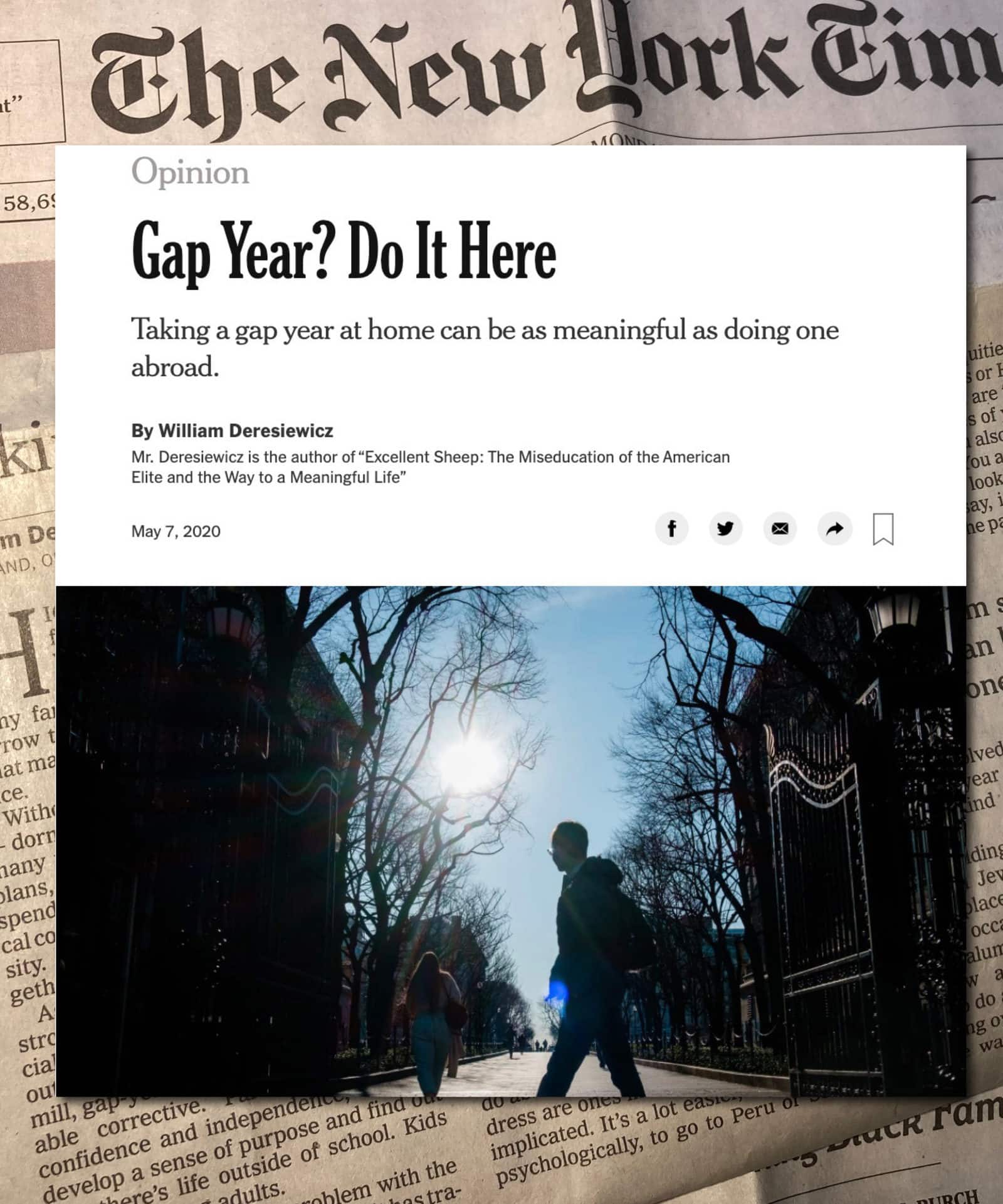 Featured in The New York Times
Real life, real challenges, real accomplishments