Not just a place to land: a place from which to soar
High school enabled your teen to get into college, but who is on your team for the next steps of their journey to adulthood? To continue to take responsibility for themselves, to develop empathy for others, to find their place in the world and contribute to it meaningfully?
Tivnu is a chance for young adults to spread their wings in a way that isn't easy in a freshman dorm. Tivnu integrates hands-on work experience with the satisfaction of making a real difference in people's lives. We combine training in life-skills like mediating conflict and managing the responsibilities of day-to-day life with an expanded understanding of the large-scale challenges we face as a society and world. And we are guided on that journey toward purpose and awareness by our commitment to the Jewish heritage in its full range of expression. That means a commitment to our neighbors. To our wider society. And to our young adults on Tivnu, too.
Why I'm Jealous of My Son:
Guest Post from a Tivnu Parent
By Beth "Missie" Polasky
This might sound terrible, but I'm jealous of my son.  Nadav, 19, is part of the current Tivnu cohort (affectionately known as the Tivnoodles) and is having a wonderful year.  But enough about him (!) – this is about me, and my jealousy.
Real life impact: what colleges and gap year alumni know
A gap year like Tivnu: Building Justice is more than a nice way to take "a year off." It's a year of unmatched growth and inspiration that enhances college and career.
Colleges from local state schools to Ivy League powerhouses understand the impact of doing a gap year. A shocking number of students drop out or transfer before they graduate before they ever figure out what they want out of college in the first place. But students who come from a gap year like Tivnu hit the ground running, with a vision of their future and the skills to make it happen.
College is expensive. Tivnu helps make sure that tuition money is well spent.
Frequently Asked Questions
Yes. Tivnu's Resident Advisors are college graduates with strong backgrounds and training in communal living. They live on-site in each house and work with participants to build a strong, safe, and fun home community.
Liberal arts colleges, like: Brandeis, Lewis and Clark, Mt. Holyoke, Muhlenberg, and Oberlin
National universities, like: Brown, Cornell, American, Harvard, and Johns Hopkins
State schools like: UCLA, Pittsburgh, University of Delaware, and UNC Chapel Hill
Engineering schools and technical colleges like: Colorado School of Mines, Cal Poly SLO, Bel-Rea Veterinary Institute, and Worcester Polytechnic
Tuition information can be found here. Financial aid is available; over 50% of past participants have received some assistance. Since our founding, Tivnu has been able to make our program accessible to every qualified applicant, regardless of their financial situation. Please do not let the cost of the program keep you from applying. If you would like to talk with us about financial assistance, please reach out to Steve Eisenbach-Budner, our Executive Director, at steve@tivnu.org
You'll learn first-hand from activists, professors, people confronting challenges themselves, and Tivnu's own educators. It's definitely not school. But if you like to learn how the world really works from those whose expertise comes from hard and thoughtful experience, it's what school should be.
Taking a gap year in the US can be as meaningful as doing one abroad.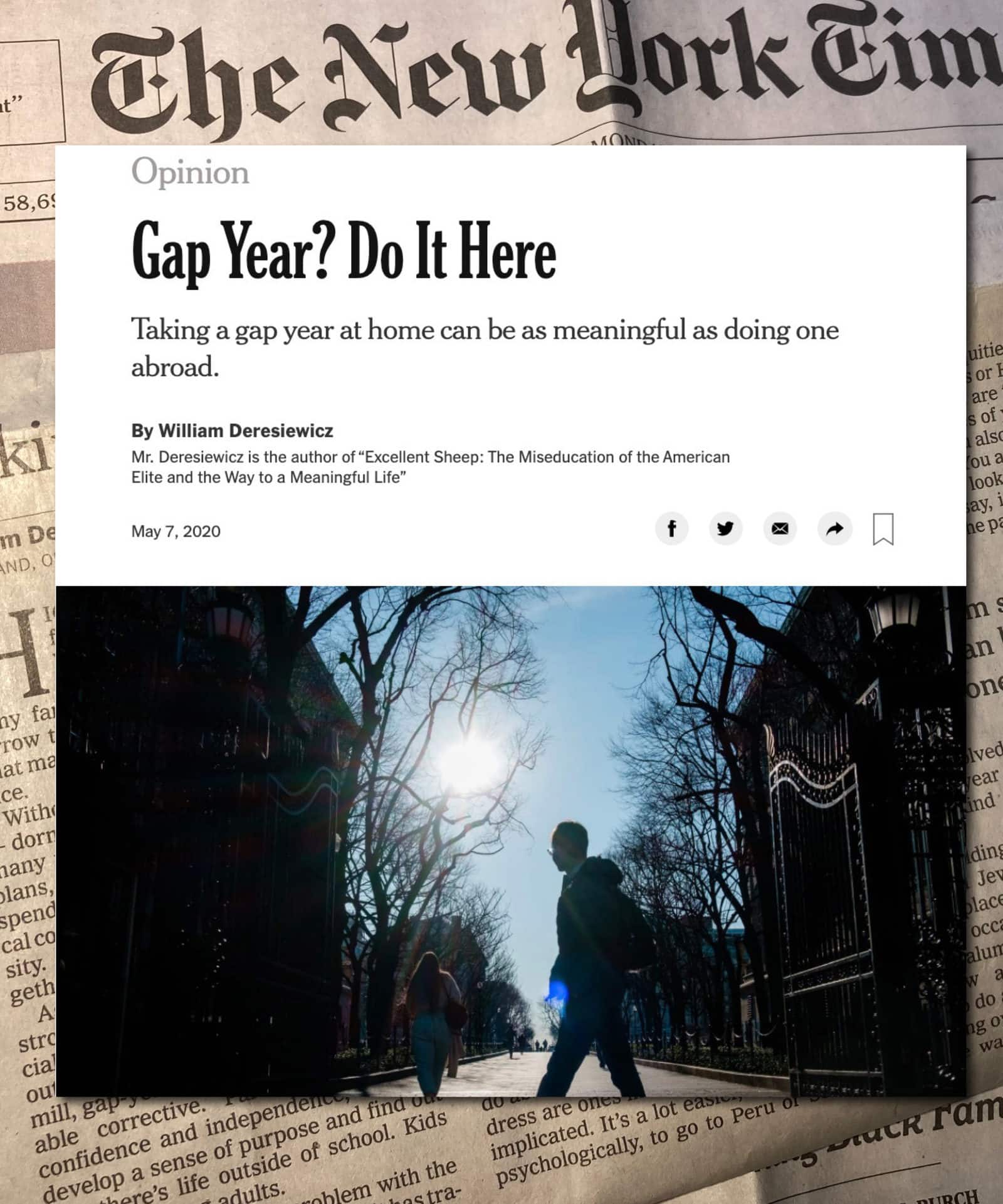 Featured in The New York Times
Real life, real challenges, real accomplishments