By Sophie Simpson
Greetings from California! Over winter break, I've had some time to reflect on four months in Portland with Tivnu. I'm Sophie, the oldest Tivnunik in the program this year. I went to University for couple years before this program, but decided to take a break to do something a little different. Tivnu is the perfect fit! I am really enjoying my time in Portland. The Irvington neighborhood is home to beautiful scenery and extra perks like mini libraries and art boxes; perfect for walks and pictures. I absolutely love art and nature, so it's essentially the ideal place to be myself. Being able to learn about social justice issues in such a lovely environment is truly a blessing. The relevance of where we live has an inspiring effect on how we take our jobs and education sessions to heart.
It becomes clear that having a constant in life is an essential part of adapting and thriving. In this case, that constant is being surrounded by everyone at Tivnu. Let's face it: we're stuck together whether we like it or not. Luckily, we do enjoy each other's company! However, when we left for Thanksgiving break we realized we didn't know each other quite as well as we would have liked. After returning to Portland, we decided to intentionally get to know each other through one-on-one conversations and group bonding exercises. So far, we have taken more time with one another to talk about ourselves. Some of us have been talking before going to bed, while making dinner with each other, and doing activities that we collectively enjoy. In doing so, I've been reminded that playing card games, watching movies, and taking walks are fantastic ways to get to know people.
As a newly formed community, we are learning about the importance of supporting each other. Whether we do this by sharing recipes, going on walks together, or listening intentionally and sharing kind advice, we are learning what we each need. This has helped us considerably at work. We have truly become a team. As we continue to support each other at Tivnu, we learn how to support our larger community too. The weekend before winter break, Sasha and I had the honor of attending an event with Habitat for Humanity where families were presented with keys to their new home. It was a heartwarming to hear the new owners speak about their gratefulness and hardships with finding a home as those who built the new home listened in awe.
Some of our recent bonding may have been inadvertent, but it certainly allowed us to see new sides of each other. In the few weeks leading up to winter break we had two snow days. Some of us were able to enjoy the freshly powdered inch of snow. Those of us from California were especially excited to be out in the fluff to experience more winter than we've ever been able to! A few snowball fights ensued until our faces were numb. Then, we went inside to drink hot cocoa and tea. Unfortunately we have no fireplace to sit in front of, but we quickly remedied that with a few TV shows and movies. I felt like a classic grandmother; sipping my tea and knitting a blanket while snow fell outside. (The blanket is coming along quite nicely, thanks for asking. I hope to have it done in time for summer).
As the new year rolls in and we return to Portland, I'm looking forward to renewing my friendships with my housemates, my teammates. We've got four more months of the program and I can't wait to see what's in store.
Happy Holidays!
Taking a gap year in the US can be as meaningful as doing one abroad.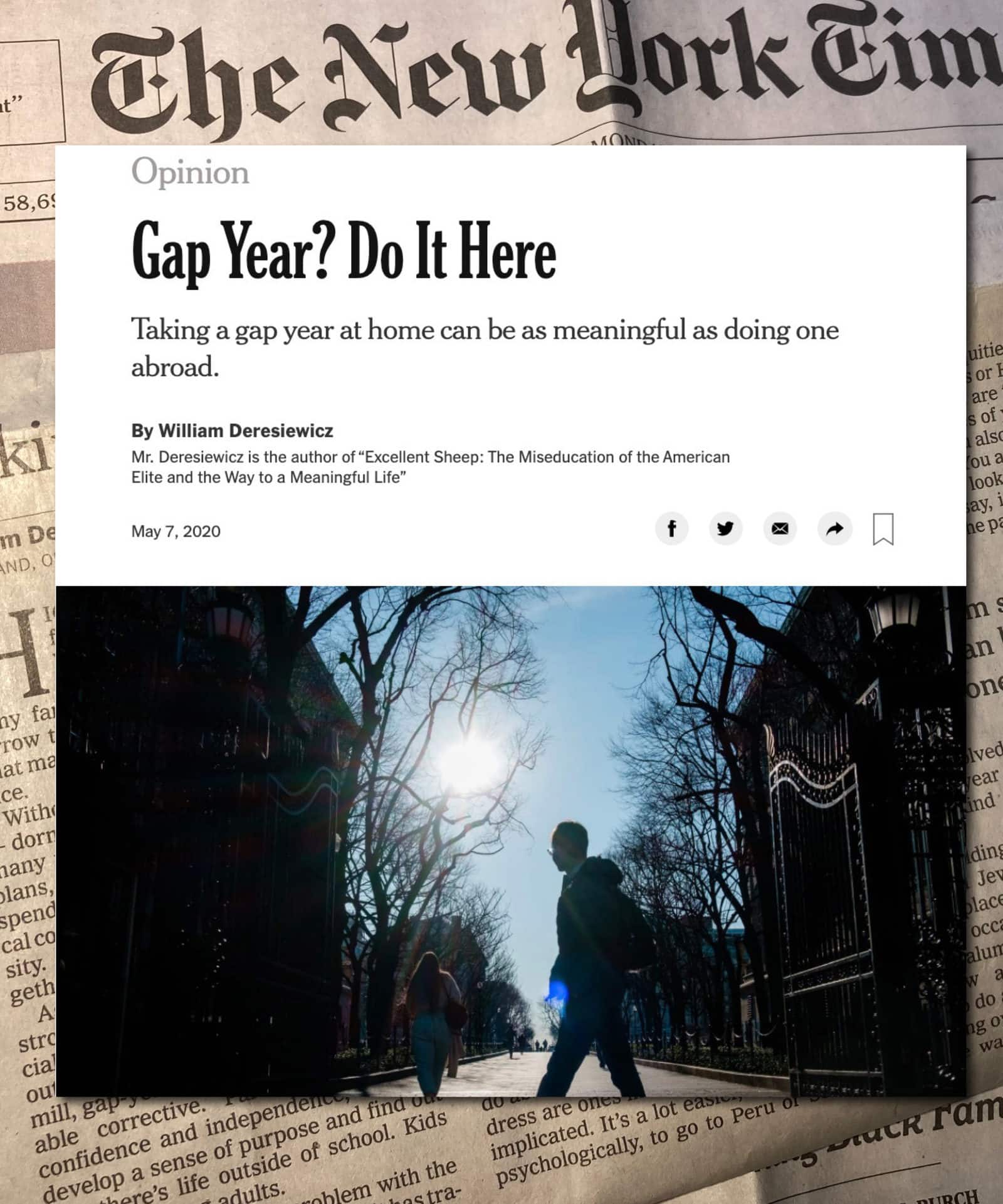 Featured in The New York Times
Real life, real challenges, real accomplishments