by Richard Patrych
As a group, we planned an exciting yet relaxing weekend to Seattle. Upon arriving to to the city, first thing I noticed was how much more urban it was in comparison to Portland. I've always considered Portland a very slow-paced city but this idea was confirmed by the exposure to this other west coast city.
We stayed at a warm and friendly hostel right in the middle of the city. You know, the good kind, where horror movies aren't derived from. Downstairs was a lounge area with a bunch of travelers, most of whom were in Seattle as just a pitstop to their grand adventures. During the first night we hung out with them, listening to their engrossing stories. A bunch were traveling to Alaska, which I thought was pretty cool. I've always admired those who embark on long travels rather than quickly flying to wherever your destination is. The stories are always better. On Friday night we also had Shabbat dinner at the hostel in the dining room area. It was quite funny seeing people observing the kiddish and prayers, wondering if we were part of a cult.
On Saturday a bunch of us became tourists, exploring some of the "must sees" of Seattle such as Pike Place Market. While it was pretty much like any large market, the view was absolutely outstanding overlooking the Elliott Bay waterfront. We then headed over to play mini golf which was very fun. I used to love playing mini golf as a kid and hadn't played in awhile so it felt very nostalgic to me. My friend Reuben and I then decided to try our luck in the driving range. Neither of us had any form at first but within a few tries we got better. While neither of us will be entering the PGA tour anytime soon, it was definitely a good learning experience. Later that night, we met up and had dinner with my friend Nomi's cousin and a few of her friends who are part of a ballet program in Seattle. We split 3 pizza pies and schmoozed for a few hours. I'll even go on to say that there pizza was on par with New York pizza. If you're ever in Seattle, make sure head to Paxti's.
After dinner we went to a late night comedy show called ComedySportz, in which 2 teams compete in improv comedy battles with one referee hosting and judging. I don't usually like comedy that isn't standup based but there was something unique about this particular show. I enjoyed that the audience and I had some say in the material that the comedians were using. Furthermore, the energy at the show was top notch as the host kept encouraging us to raise our energy levels to "10"; the added energy surely added a spark to overall show.
On Sunday morning we drove to a restaurant to get something to eat. After looking for awhile, we decided to try out this honey based sandwich shop. Three of us ordered "The Dude", a delicious sandwich made with beef brisket, honey, horse radish, lettuce, tomato, and provolone. Again, I recommend another place in HoneyHole Sandwiches if you're ever in Seattle. I promise no ones paying me to advertise for them! (Haha).
After lunch we headed over to a baseball game featuring the Minnesota Twins and the home team Seattle Mariners. The seats were not bad at all for the price we had gotten them at and the game was interesting despite being a low scoring one of 4-2. The Mariners lost so that was a bummer for the crowd but the good news is I re-discovered my love for dipping dots! After 11 innings of intense, well-played baseball, we headed home back to Portland, playing music and talking the whole way back.
Seattle was lots of fun for everyone. Now, we return to Portland for a month where I hope we can get as much out of it as we can. That includes learning new things, finishing the houses, trying new restaurants and going to Portland events. I'm especially looking forward to our next adventure when we go white water rafting and camping the last week of the program in rural Oregon.
Taking a gap year in the US can be as meaningful as doing one abroad.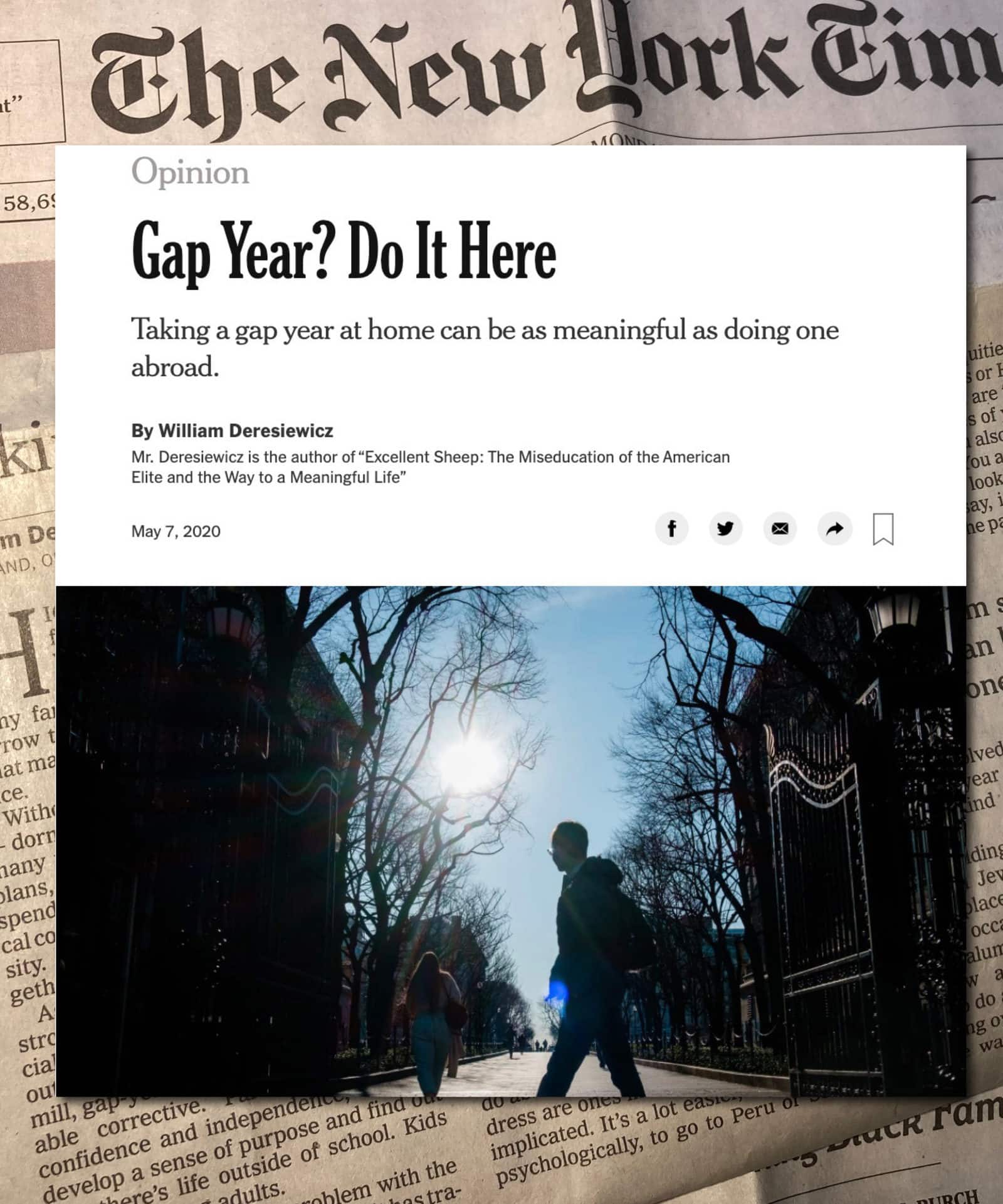 Featured in The New York Times
Real life, real challenges, real accomplishments