This guest blog post was authored by Adinah Miller, Tivnu's program director. Adinah coordinates the Tivnuniks' internships, plans and often teaches our Educational Explorations, and is generally a mom-like figure for the Tivnoodles. When she's not working (and sometimes when she is), Adinah loves sharing Shabbat dinner with others, Jewish history, and eating foods full of sugar and gluten.
Crown shyness (also canopy disengagement, canopy shyness, or intercrown spacing) is a phenomenon observed in some tree species, in which the crowns of fully stocked trees do not touch each other, forming a canopy with channel-like gaps… There exist many hypotheses as to why crown shyness is an adaptive behavior, and research suggests that it might inhibit spread of leaf-eating insect larvae. (https://en.wikipedia.org/wiki/Crown_shyness, accessed March 19, 2020)
It's been over a month since Tivnu celebrated Tu BiSh'vat (the Jewish New Year of the Trees) together, but what a good time it is to learn from the trees! A little physical distancing can help us inhibit the spread of novel Coronavirus, flatten the curve, and thus enable our hard-working health care professionals to care for those who become ill. Even with these short distances between us, we can create a canopy of care together, protecting especially those who are already short on resources like adequate food, shelter, and health care.
Participants in Tivnu's 6th Gap Year cohort have been putting their well-honed skills of flexibility and resilience to work, as all our best-laid plans have been put aside. Like many other programs, we have had to suspend normal gap year activities and send all of our participants home to their families until the situation is resolved.
While we all know that this was the socially responsible action to take, the abrupt suspension of the Gap Year has been difficult. Allie wanted to continue cooking meals for the HIV-positive residents of Our House. Simon didn't want to stop assisting in the robotics and auto shop classes at the under-resourced Alliance High School. Daniel misses his friends and co-workers at the Sisters of the Road café and community hub.
So now what? There's so much we can't do right now!
I've been traditionally Shabbat observant (Shomeret Shabbat) for my whole life. People always ask me what I can't do on Shabbat. Is it true you can't write, can't use electronics, can't drive places? Yes, but I like to focus on what I can do, how I can celebrate Shabbat, what different ways I have to spend my time than usual. No, this public health crisis is not a Shabbat for everyone. This time is incredibly difficult for people who are at risk of becoming ill, losing their livelihoods, missing payments for rent or utilities or medical bills. These precautions to protect each other's physical health endanger many people's mental health.
But it is a time that reminds us of all the ways that we need to be engaged in creating social change outside of direct face-to-face service. Fill your days with hesed (lovingkindness), reaching out to individuals and organizations who could use your help remotely. Spend time learning about the connections between Jewish life and social justice. And act on this new knowledge: call your elected representatives to tell them to enact new supports for houseless, hungry, sick, and out-of-work Americans. Uncover the roots of these vulnerabilities in our country and explore proposed long-term solutions – solutions that won't just react to crises like this pandemic, but will put safeguards in place to make all people healthier, safer, and better-supported.
Over the next several weeks – or however long this lasts – Tivnu will be posting updates and links on Facebook and Instagram that will remind us how to take action in this time of inactivity. We hope you will share with us the ways in which you are continuing to engage in social justice work, even as we work from home. We can spread a canopy of care and love over one another even while engaging in some crown shyness, just like the trees.
Taking a gap year in the US can be as meaningful as doing one abroad.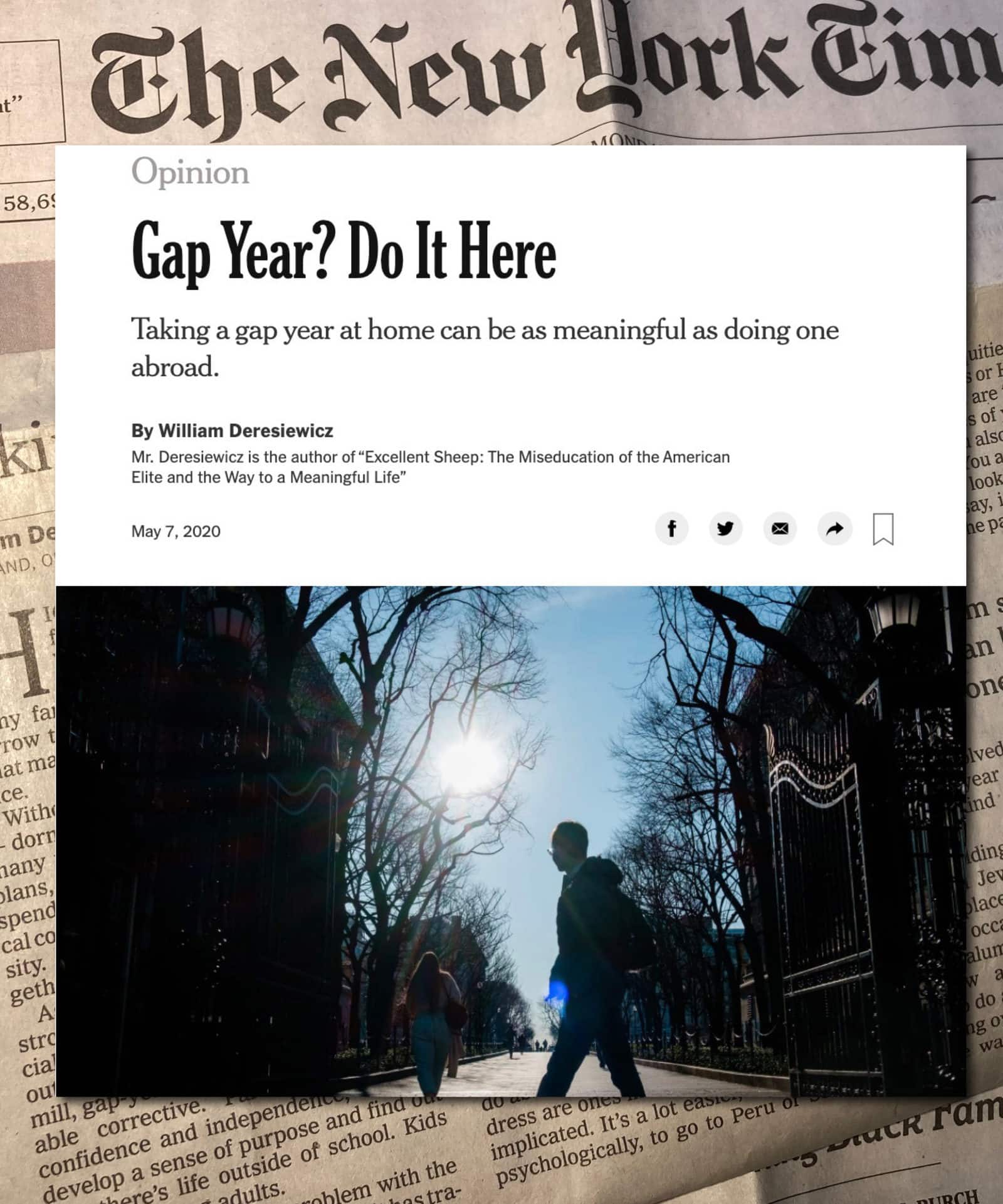 Featured in The New York Times
Real life, real challenges, real accomplishments