This blog post was written by Mimi Lopez, a member of the Tivnu 8 cohort from the Bay Area in California. In her free time Mimi enjoys playing with her dog, spending time with friends and family, and recently has enjoyed exploring her new home, Portland, Oregon. She interns at Boise-Elliot/Humboldt Elementary School and Tivnu construction.
I chased Levi and Ansel down to the beach, leaving my bags deserted on the cabin floor. My feet hit the sand, the pounding of the rushing waves roared in my ears, and tinges of relief and nostalgia cascaded over me. The sudden reality of exploring Oregon's coast with my Tivnu friends suddenly braided together with childhood memories of my family playing on the beach and a deep sense of familiarity, serenity, and home surged through me.
The weeks leading up to the Camp Westwind trip were filled with spontaneous adventures, fascinating educational explorations, and cozy communal meals. But the tangled web of busy internship schedules made it hard to interact with the entire cohort together. Since I volunteer with a first grade classroom at a local Title I school four days a week, I tend to feel quite exhausted by the end of the week. Though this amazing opportunity has been so meaningful and very entertaining, at times the work's challenges tire and overwhelm me. Sometimes the profound connections I form with students and my growing interest in a career in education are eclipsed by the amount of energy I dedicate to my role and work. In turn, my stamina for socializing with the other Tivnoodles in my cohort wanes. So I had been counting down the days until I could relax by the ocean with all of the Noodles, without distractions.
Over the course of the weekend I sat in the sand with Levi and shared childhood memories of vacations, I ran through the waves with Aaron under the rain, I climbed rocks with Shira and reminisced about how much we miss the California beaches, and throughout each day I felt deeply rejuvenated by the new sense of calm taking root within me. The ocean has always carried a special feeling of comfort for me, but at Westwind the ocean introduced me to an entirely new sense of tranquility. Here, the ocean gifted me seemingly endless time to adventure with Noodles I hardly see throughout our busy weeks, and enhance our friendships, connections, and community. Although our time together at Westwind's beautiful beach halted on Sunday, we left with a newfound determination to fit far more time together into our packed schedules.
This is all to say, whatever stress my peers and I brought with us to Camp Westwind was washed away by the ocean, allowing us to further connect and grow closer to each other. And I am immensely grateful for it.
Taking a gap year in the US can be as meaningful as doing one abroad.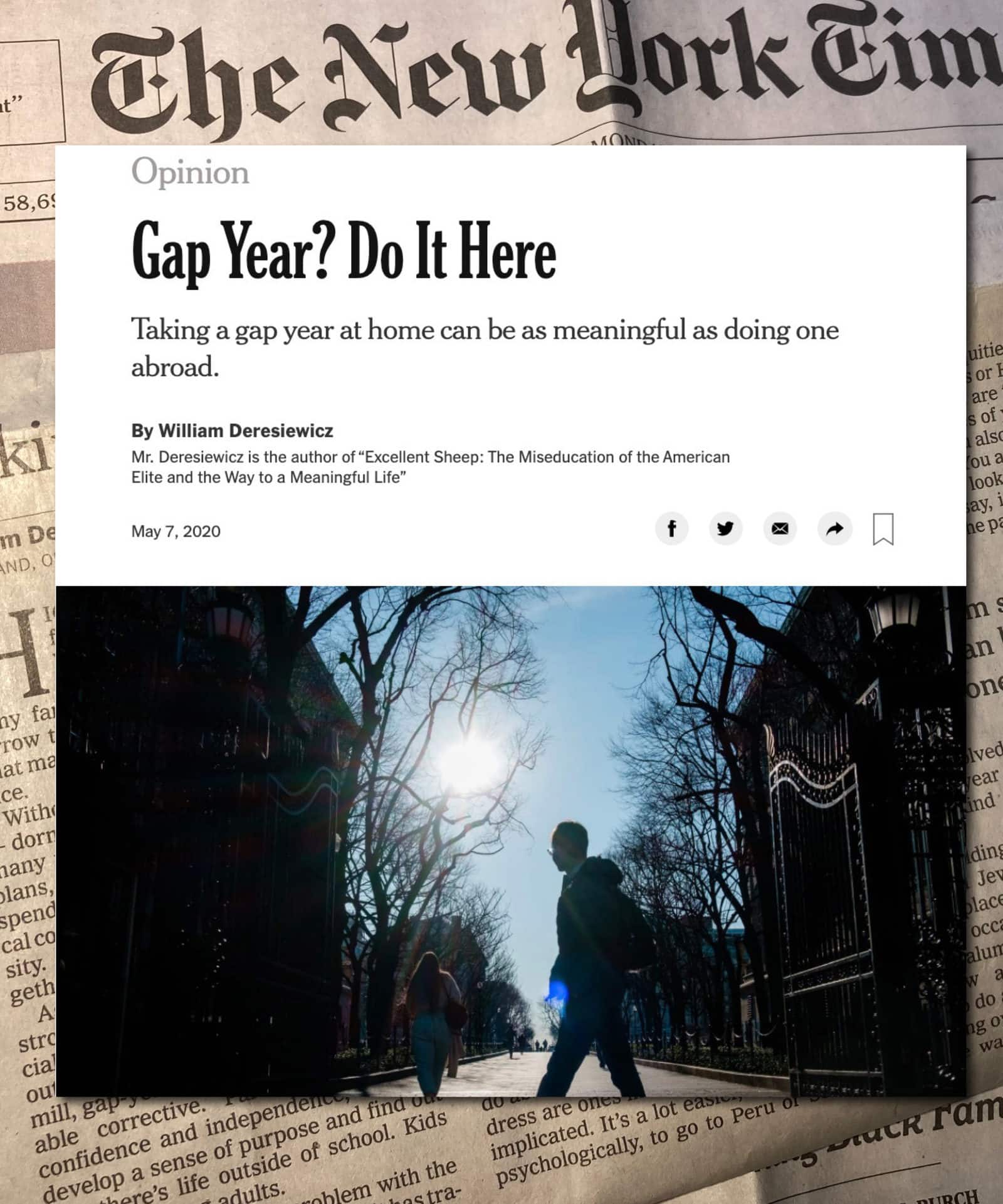 Featured in The New York Times
Real life, real challenges, real accomplishments