This blog post was written in March by Lance Rothchild, a member of the Tivnu 8 cohort from Park City, Utah. He enjoys reading, music, and those indelible moments of forgetfulness that make him believe he lives in a world without NFTs. Lance is interned at Northwest Workers' Justice Project and Tivnu construction.
A few weeks ago, Tivnu 8 took a trip to OMSI's Hancock Field Station, deep in the Oregon desert. I didn't know Oregon had a desert until I heard about the trip, and even then I was skeptical. But it turns out that Oregon does have a desert with all the trappings – stones, dust, grass, rocks, sagebrush, worryingly fresh bobcat tracks on the trail you're hiking, more dust – this place has everything! If nothing else, reader, learn this: Oregon has a desert, and it's not all that far from Portland.
On the second night of our trip, we were treated to the use of two high-power telescopes to better see stars and nebulae and moon craters, and our stargazing was perfectly timed to view a transit of the International Space Station. The sky was so dark and the stars so bright, that I am now (and forever at the Winter Garden theatre) convinced that the former is a dome, and the latter is holes poked through it. What can you do?
I made 3 pivotal decisions leading up to this trip. First, four years ago, I cajoled my parents into buying me a pair of Crocs (they're pink, they have blue palm trees on them, if you know me you've probably seen them, if you haven't you can Google them and get the same effect). I consider this to be the best allocation of funds in United States history and – any day now – Janet Yellen will respond to my offer to consult for the Treasury Department.
(Secretary Yellen: if you're reading this I'm willing to negotiate but the hard bottom for
my salary is $2.3 million.)
Second, I decided to bring said Crocs to Tivnu. This was less of a decision because I bring them everywhere. Whenever I leave the house I pat my pockets and say my mantra: "Draft card. Crocs." They can fine you up to $250,000 for not having your draft card but the price for being caught Crocs-less can in many cases be fatal.
Third, right before leaving I traded my right Croc for Grace's right Croc (blue, adorned with an assortment of Jibbitz, one of which is of Fmr. Ambassador to the UN Lightning McQueen). We do not wear the same shoe size, but the beauty of the Croc is twofold: It's stretchy and can be switched effortlessly between sport mode and leisure mode.
Sport mode's heel brace permits more tactical movement. The Crocs company was once approached by the Pentagon to make sport-mode-only footwear but declined the contract out of fear that such equipment would make the military too powerful. Leisure mode turns your Crocs into sandals ready for the beach.
With smart switching between these two modes, your Crocs can complement any outfit and easily take you from day to night. Trading Crocs with Grace was a good decision. Whenever I looked at my feet during the drive out to the field station, I would think of Grace and the memories we've shared over the course of Tivnu.
So while we got to do so many interesting activities as a group, it wasn't the hikes, or the candle-making (we did that too, it's fun), or the stargazing alone that made the trip so magical. It was every time we traded emotional Crocs with each other – sharing Shabbat and meals, making s'mores and music together, hiking in the early morning to watch the sunrise – that's what mattered most. What I know about Tivnu is that I will continue to find these moments – surrounded by such brilliant and kind people, it's impossible not to share your Crocs.
Taking a gap year in the US can be as meaningful as doing one abroad.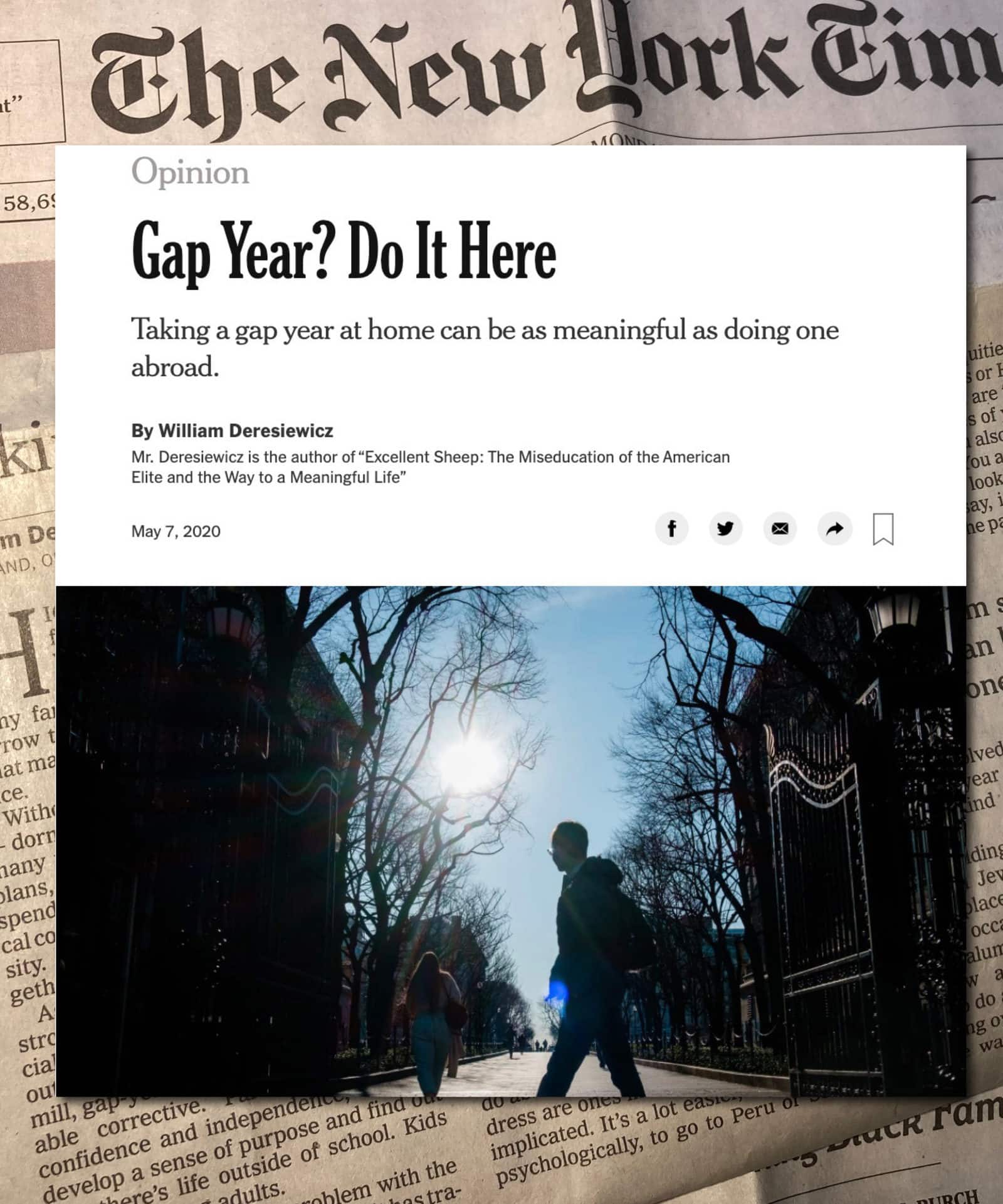 Featured in The New York Times
Real life, real challenges, real accomplishments