My name is Aliza, and growing up with newspapers strewn across the kitchen table has given journalism a special place in my heart. In high school, I was co-editor of my school newspaper. Thanks to Tivnu's amazing program director and some good luck, I am now able to continue pursuing this piece of my life through one of my Tivnu internships: Street Roots.
Twice a week, I intern at Street Roots, a newspaper covering local, national, and social justice issues that is sold by houseless individuals (known as vendors) on Portland streets. I work alongside houseless individuals, as well as develop my organizational development and marketing skills.
The newspaper, in addition to social justice issues, features articles, poetry, and artwork created by vendors. Last week, I photocopied dozens of art pieces—from dolphins to cartoons to "I Love Streets"—by one vendor, and it was beautiful to see the excitement on his face over the quality of the artwork and chance that he might be featured in the newspaper. It's so nice to see how much it means to vendors to have their work printed and be able to unleash their creativity.
Street Roots also offers opportunities for the vendors to share their views on issues affecting them through community forums and publications. I recently designed a flyer to promote an event for vendors to share their thoughts on community engagement, which will be presented to the county office!
From publishing art to simply showing up to pick up their papers each day, the resilience and positive nature of the vendors at Street Roots amazes me. The amount of stress, loss, and barriers these vendors have faced is unimaginable, yet their positivity and motivation speaks volumes. From spider species to current events, the conversations I have had and relationships I am building are not only to allow me to contribute to a more interconnected and supportive society but also to become a wiser, kinder, and more aware person. Over this coming year, I am looking forward to fostering relationships with vendors, creating and organizing systems for donations, and reading some good, important journalism along the way.
Street Roots is definitely important journalism, but it's more than a newspaper. It is a supportive community filled with employees who know and truly care for the vendors. My first day visiting Street Roots, the executive director showed me around the front, greeting each vendor by name and asking them questions about their lives. As the vendors walk up to the front desk to buy papers for twenty-five cents (which they then sell for a dollar and keep the profits), the two workers at the front desk welcome each vendor by name, usually chatting and joking for a while after they've bought the papers. I hope to build the same kind of relationships as the front desk folks! Over the next eight months, I will strive to work towards building these relationships, by greeting most, if not all, vendors by name and truly making connections with these folks.
It's amazing that Street Roots serves as such a hub for community building and involvement. My first day on the job, I went to the zoo with about a dozen vendors and spent a few hours admiring the elephants and flamingos with them. One vendor, who just so happened to be a bat connoisseur, asked some questions that even stumped the zoo ranger!
On top of all the community aspects, Street Roots provides their vendors with necessities, from ponchos to socks to toothpaste, that allow vendors to live more comfortably and safely. Over the next few weeks, I will be contacting corporations in hopes to grow our donation quantities as well as foster positive relationships with businesses. Then I will be compiling and systematizing this data, and other in-kind donation data, so that future interns and workers at Street Roots can seamlessly track and receive donations.
Sometimes I feel bogged down for a moment with mundane tasks like researching hand warmer prices and alphabetizing mail. What grounds me again, though, is the context of this work: the realization that my price research will keep a vendor warm during the freezing Portland winters, or that recieving mail will provide a vendor their Social Security application so they can have a source of steady income. On an even grander scale, I realize that I am contributing to an organization working on the larger issue: housing justice for those living on the streets and in shelters. The basic necessities for the folks on the street are important, but long term, Street Roots is also contributing to raising awareness about and voices of people living on the streets. Each day, slowly but surely, I am helping and learning how to create long-lasting social change for houseless folks.
To learn more about Street Roots, visit their website at http://streetroots.org/, or find them on Facebook here.
Written by Aliza Saunders, Tivnu Gap Year Participant 2018-2019. Aliza interns at Street Roots, Northwest Workers Justice Project, and Tivnu Construction.
Taking a gap year in the US can be as meaningful as doing one abroad.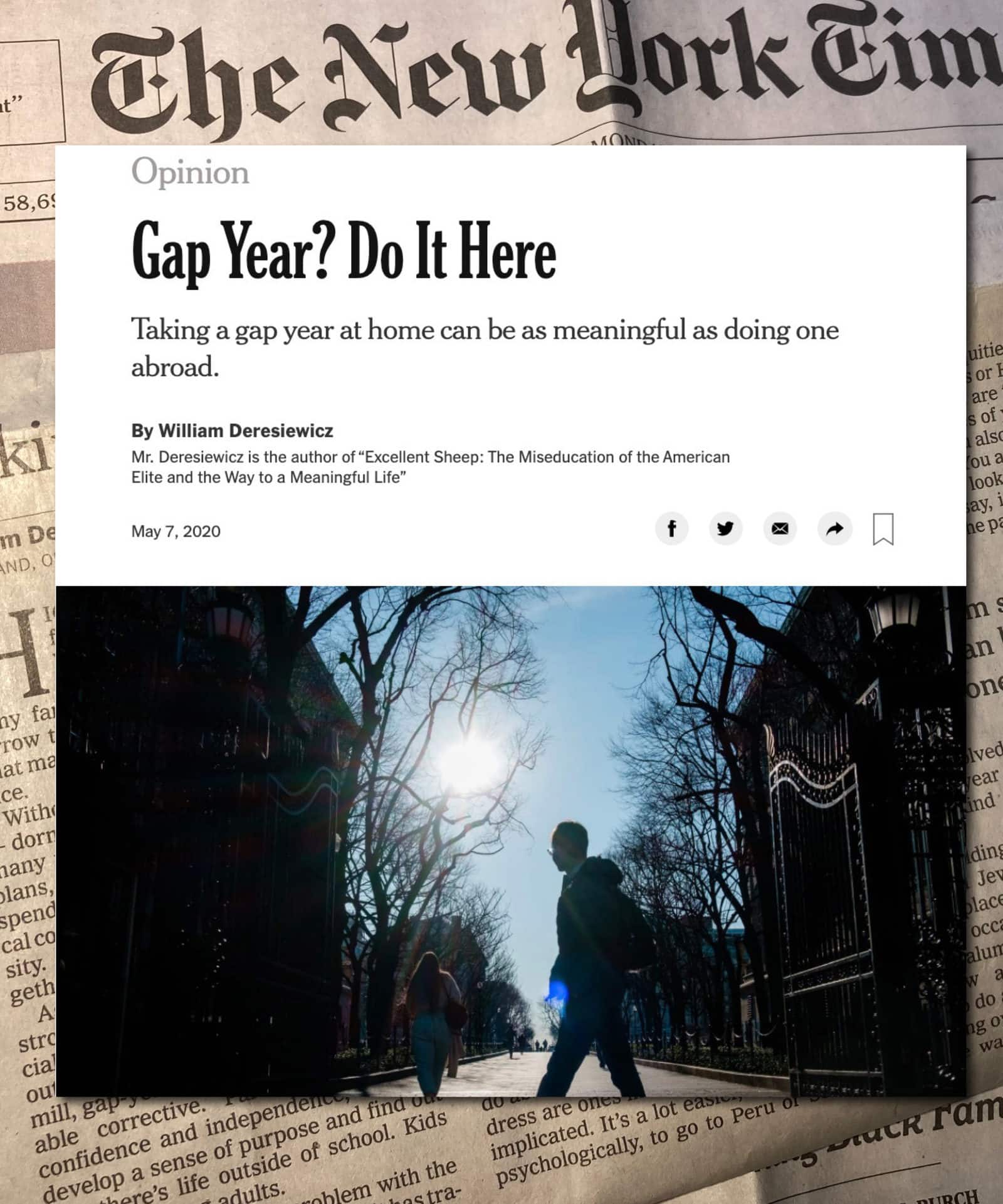 Featured in The New York Times
Real life, real challenges, real accomplishments