This is Part 1 of a 3 part series written by Aliza Saunders, Tivnu alumna and student at Cornell University. During Tivnu, Aliza interned at Street Roots, Northwest Workers Justice Project, and Tivnu Construction. She is now a first-year student at Cornell University majoring in Design and Environmental Analysis.
The first semester of college is hard. And not many people tell you that.
While I can now say that I am incredibly happy at college that was not the case on August 28, as I unpacked my clothes in my 20 ft x 20 ft dorm room. Or even in early October, when I left the overcrowded dining hall after dinner overwhelmed, stressed, and on the verge of tears.
It only took me about six weeks to feel comfortable at school and I can confidently say that I mostly attribute my eventual ability to feel settled into college to my experience on my gap year before college.
Last year, I participated in Tivnu: Building Justice, a nine-month Jewish social justice gap year program that combines direct service work, nuanced educational programs, and Jewish communal living. Specifically, my work with a direct service organization and my participation in an intentional, communal living home gave me the experience and tools necessary to excel both socially and academically in college.
Part 1: Confidence
Based on a Myers-Briggs test I took this fall, I'm an introvert. And I can confirm that: it is uncomfortable for me to engage in unplanned social interaction with people I don't know. This made the start of college that much more difficult. While I forced myself to stay late at Hillel's bonfire to talk to more people and attend a movie screening on the lawn with my fellow dormmates, I can say that I was mentally exhausted after both of these orientation events, and many more. But I pushed myself out of my introverted comfort zone, to make these friends because I knew it would pay off in the end. And it has.
From communal living to my direct-service internships, Tivnu gave me a newfound confidence that has proved to already be beneficial in so many parts of my new college life. Living with other people is hard but so worth it, and through this I was able to learn how to advocate for myself and my needs while also learning to be more compassionate for those around me. When the dishes piled too high or when I felt that my housemate was ignoring me, I learned how to approach these conversations with confidence and compassion. I learned how to articulate my needs and understand the needs of others — and that, in the end, we're all just trying our best. Similarly, through my direct-service internships, I worked with a population I have never worked with before, houseless individuals. I learned that I was capable of so much more than I thought — capable of engaging in meaningful conversations with those from different backgrounds and situations than myself, capable of stepping away from a situation that I knew I wasn't equipped to handle, and capable of expanding what I thought I was comfortable doing.
Now, in college, I am able to use this confidence I have in myself and my communication and the confidence I have in understanding the vastness of my capabilities with me in all aspects of college life. Whether it be leading a Torah study for the first time, attending office hours after class, or talking about the nuances (or lack thereof) in Disney channel shows, I bring the confidence with me I learned at Tivnu to all parts of my college life.
Parts 2 and 3 coming soon!
Taking a gap year in the US can be as meaningful as doing one abroad.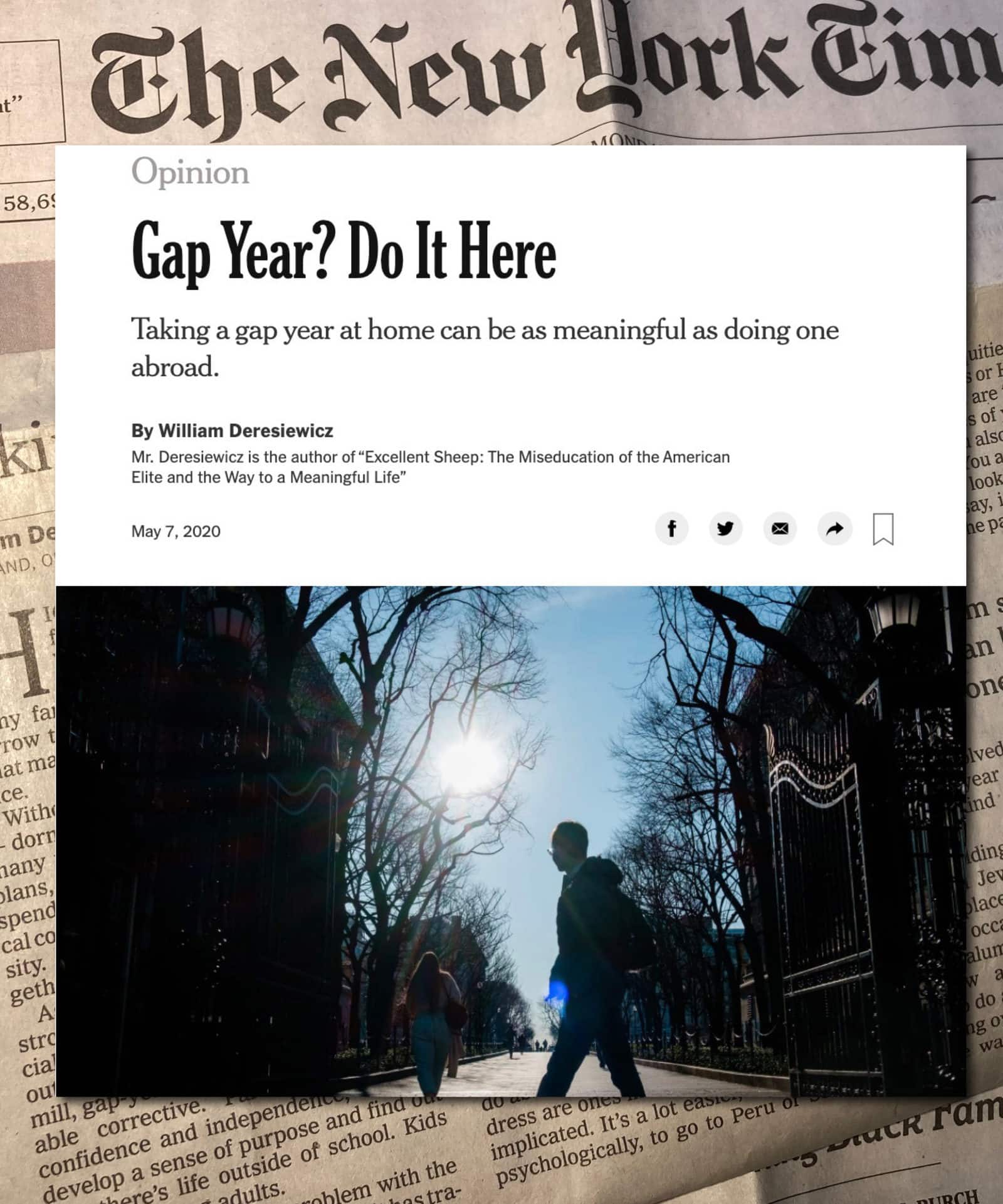 Featured in The New York Times
Real life, real challenges, real accomplishments