By Victoria "Tori" Alfred-Levow
My first J-Build Shabbat (June 28-29) was a new experience in many ways. My family only celebrates Shabbat with a Friday night dinner, so the relaxing, activity-free Saturday was a first for this busy Philadelphian. I spent the day with new friends I'd met only a few days before our first Shabbat, but the chill time and shared experiences forged new bonds for our already close group.
But before I delve into my reactions to this universal Jewish experience made special by J-Build, here's a detailed look at how 17 teenagers and four counselors in Portland had a Shabbat Shalom. On Friday, after a long second day of service work – we installed free mini libraries for City Repair, a nonprofit dedicated to building community in Portland – we helped our counselor and master chef, Nate DeGroot, make a Shabbat feast complete with handmade challot, potatoes, salad, chicken, tofu and Brussels sprouts. Instead of two traditional candlesticks, our flames flickered above 21 votive candles! Having my hand in the evening's preparation made the entire experience that much more special (and delicious!).
After dinner, we explained the significance of special objects we brought, like tefillin, a favorite book, or a sports jersey. I spoke about my key necklace, a gift from my twin sister, and how it reminds me of her. Each object revealed something new about a member of the group, and it felt very special that people were willing to share their private thoughts and feelings with new friends they'd only known for three days.
When Saturday dawned, there was no driving and no planned activities. J-Build Portland spent all day at Wallace Park, a few blocks from our synagogue (Shaarie Torah). We played kickball, did yoga, read, talked, ate, and generally basked in the lack of urgency and lazy air of the day. It reminded me that Shabbat is a day of rest, an oasis in the desert of the rest of the week.
Havdallah was a bittersweet ending to the day. We all squeezed into the tiny front garden and swayed back and forth, mumbling the "yai nai nais" and prayers to move us into the new week. And as everything else that weekend, Havdallah was our own unique twist on the universal Jewish experience.
Our spicebox: Rosemary in a baggie.
The liquid in which to dip the candle: Orange juice!
As the candlelight illuminated our faces and extended fingertips, I knew this was a moment I'd remember for years. We followed Havdallah with a visit to the phenomenal ice cream play, Salt & Straw! Weird flavors like olive oil and passionflower refreshed my tongue as this Shabbat refreshed my soul.
My first J-Build Shabbat went by all too quickly, and yet so slowly. It's an experience best explained by the Emily Dickinson quote, "We turn not older with years, but newer every day." Friday and Saturday were days which added to my newness with good food, new friends, an alternative Shabbat experience, and memories that were an auspicious beginning to this incredible trip.
Taking a gap year in the US can be as meaningful as doing one abroad.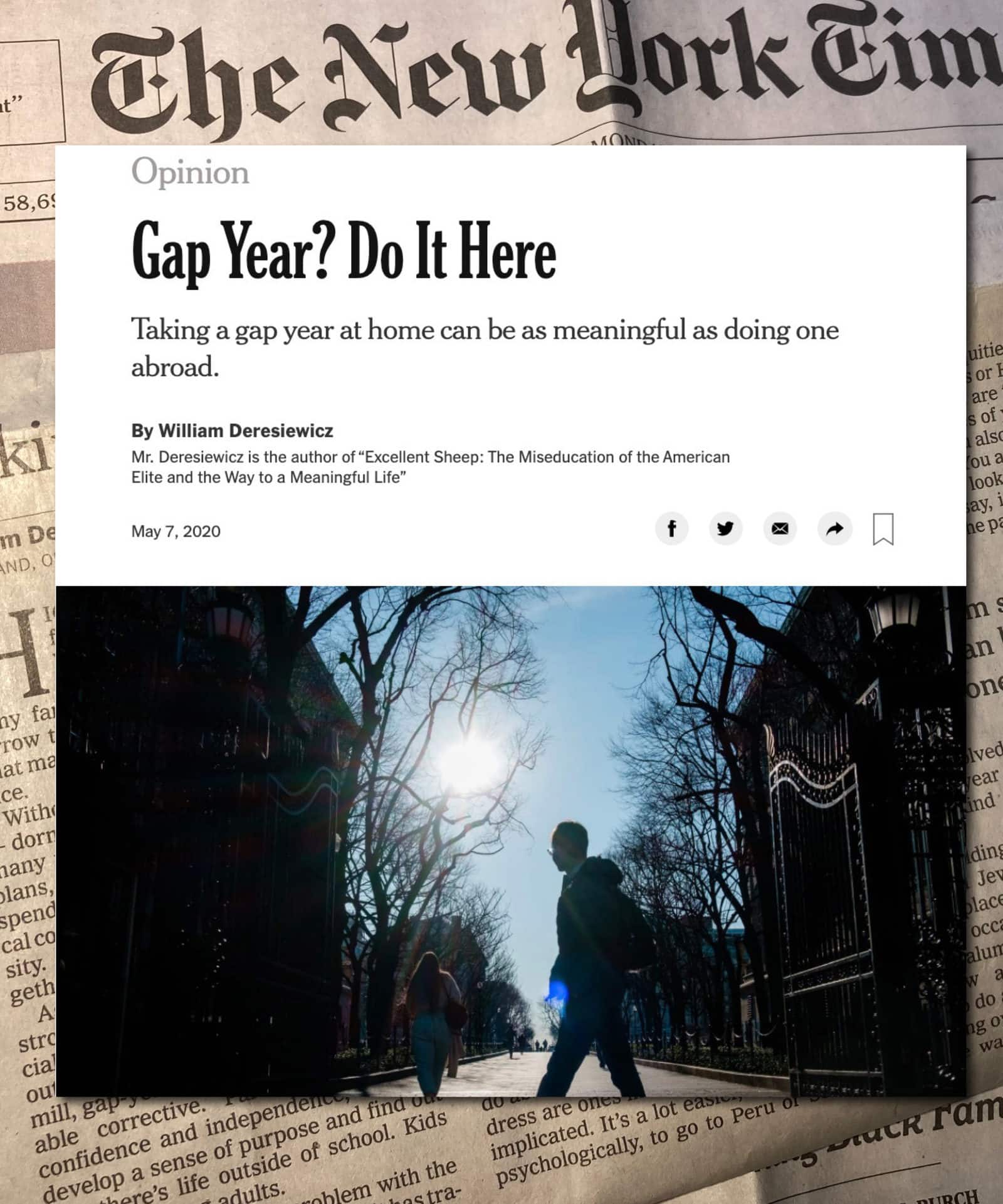 Featured in The New York Times
Real life, real challenges, real accomplishments