Hey! My name is Nadav, I'm from Newton Massachusetts, and I've spent the past four weeks living the Tivnu life! Friendships have been formed, beds have been built, and the great outdoors have been explored. We've each already had four work days- I spent one at a soup kitchen styled like a cafe called "Sisters of the Road", and the other three at the Habitat for Humanity work site. I have so much to say, but for the first blog post of Tivnu 2.0 (!!), I want to talk about the word "home".
Recently, I was giving my family an update about how I was doing. I thought it would be awkward to refer to my place of residence as just a house- I want it to be more than just a structure containing the bed I sleep in and the food I eat. So, I told them I was heading home. It wasn't well received. I knew that would happen though, because the word "home" is complicated. Everyone has a different definition! Some people consider their current residence, no matter what, their home. (For example, a few fellow staff members at Ramah in the Rockies consider their platform tent their home, even if only for nine weeks). Many people also have some poetic line about what the word means to them, which can sound pretty, but it's usually too vague for me. It can also complicate the term "homeless", but maybe that's a good thing.
No matter the definition, if someone like me spent most/all of their childhood in one residence, that is unquestionably their home. Mine was carefully crafted by my parents, and it's where they watched me grow up for eighteen years. That's pretty amazing. I was very ready to head out and build onto my life, but I understand that it's hard for them to see me easily transitioning into a new home.
The truth is, I don't know how it happened so easily for me. It didn't take long for me to get comfortable- having little kitchen counter space and no bathroom window curtain was a struggle at first, but the house as a whole has countless strengths, and our central location is excellent. Sitting at the dinner table for all of our group meals, I look around at my new friends, each with diverse interests, personalities, and goals, and I feel content. It probably won't ever reach the comfort I feel at the table with my family (notice how I base my analysis of my feelings on food), but who knows.
The main difference, however, between my childhood home and the Tivnu home, is that I can always return to Newton. This year is only temporary. I still don't know how I'd define "home", but it does feel a bit off to put this current house at the same level as my childhood one. That's why I want to start referring to it as the Bayit. I don't know if that word also causes deep emotions to native Hebrew speakers, but I think it's great because it translates to house and home! I should note that this is not an original idea, as every email and announcement I have received from the staff uses that term, but up until now, I've avoided it. But no longer! I am excited to see how my identity takes shape in this Bayit, and equally excited to see how the Bayit forms my identity as well.
Taking a gap year in the US can be as meaningful as doing one abroad.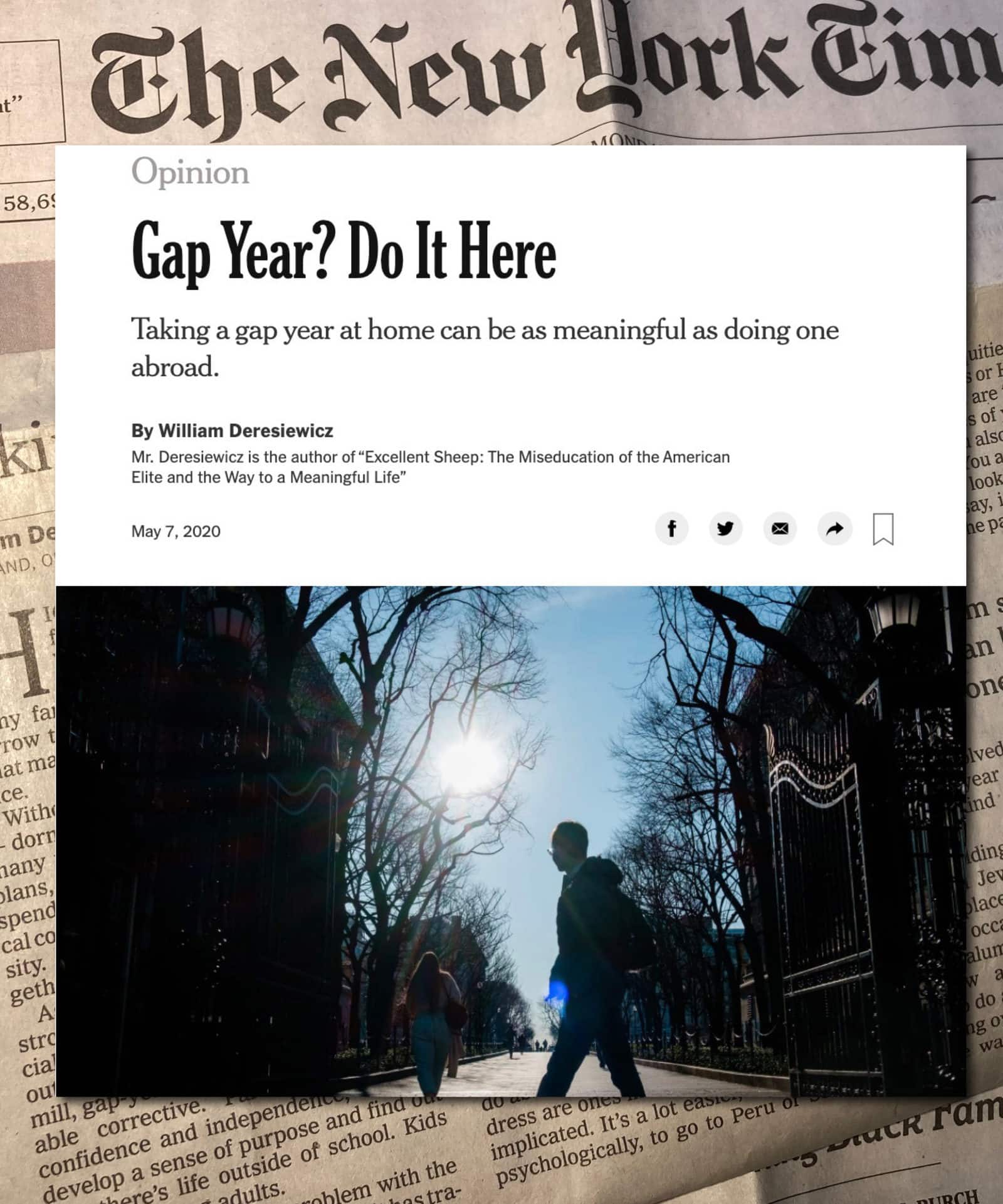 Featured in The New York Times
Real life, real challenges, real accomplishments