This blog post was authored by Maya Mann, a member of the Tivnu 7 cohort from New York, NY. She enjoys bike rides, avocado toast, and petting the many neighborhood cats. She interns at Stone Soup and Tivnu construction.
Being at Tivnu has made me appreciate the smaller moments in life. Over the course of this year I've grown to appreciate the little pieces of time that I'll remember forever. It's like my brain takes a screenshot. I think about all the little things that had to happen to lead up to this one moment happening.
Several weeks ago I was sitting in a hammock in Irving Park and talking with my friends. It was one of the first clear sunny days in weeks after Portland's wet, rainy and overcast winter. I realized all the different paths that my friends were on that led them to sitting in the park on that beautiful sunny day. Whether they had been planning on coming to Tivnu for years, or made a spur-of-the-moment Covid decision, I was so grateful that all of our lives had chosen this year and this moment to intersect.
More and more throughout this year I've noticed the smaller moments — moments that you otherwise would pay no attention to: That first sip of homemade bubble tea that we spent 2 hours laboring over in the kitchen. The satisfaction after the screw you were trying to drill through two pieces of wood finally catches and brings them together. Having long late night conversations on the cold beach at Westwind – a camp on the Oregon coast we went to back in October. Standing at the entrance of a houseless camp and looking at the 150 wooden platforms that Tivnu built over the course of last semester and thinking "wow." That first bite of Annie's Mac and Cheese – seasoned to such perfection with salt, pepper, garlic and paprika, you would never have known it came from a box.
Maybe it's because of Covid, and the fact that I went so many months without any moments at all, that I'm now eagerly taking in all of them. Maybe it's because all of us have gone through 12 years straight of school without having a moment to sit back and appreciate the here and the now. I know with certainty that in 5 or 10 or 20 years or even more I will still remember these little moments that have made my year amazing.
Taking a gap year in the US can be as meaningful as doing one abroad.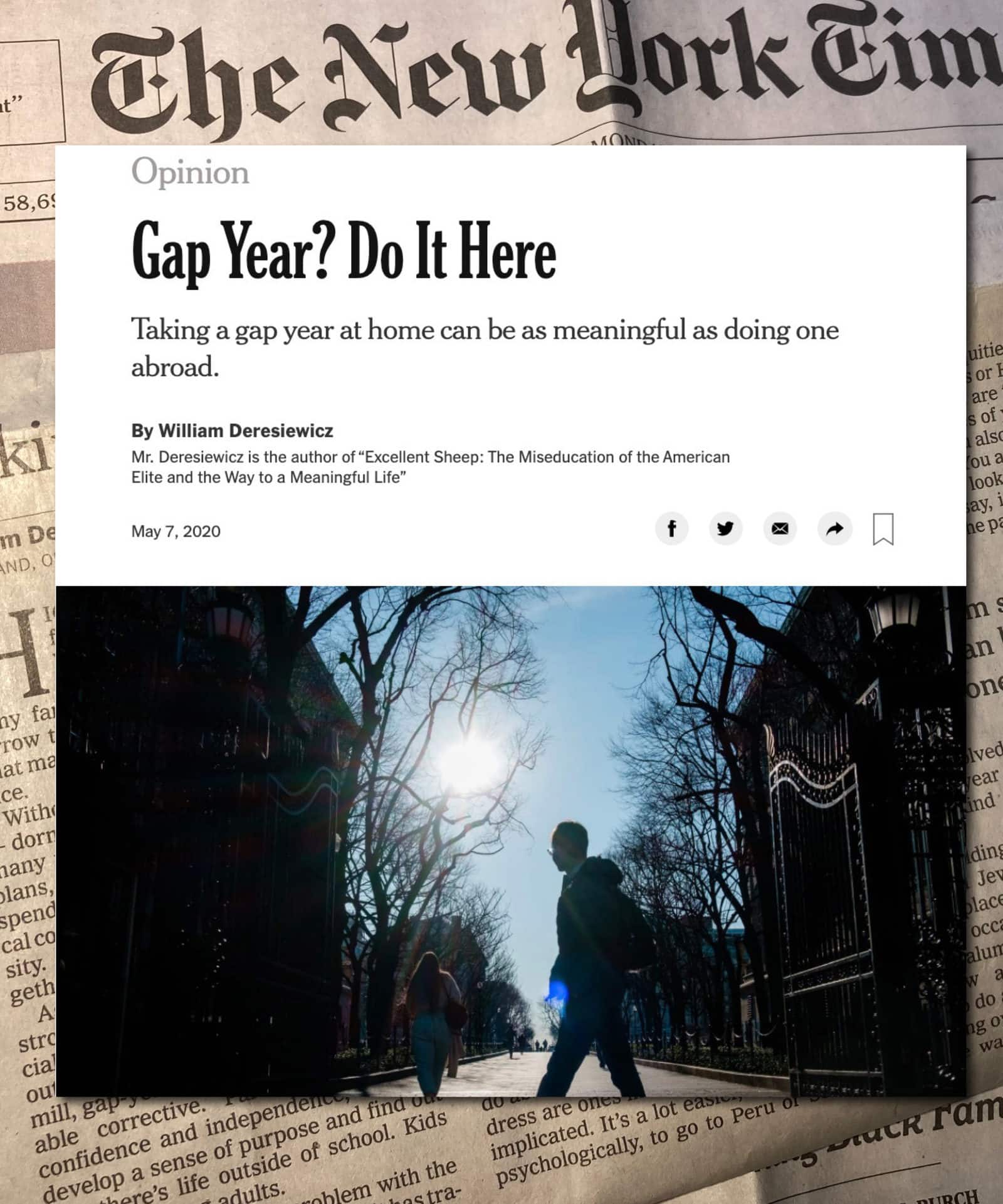 Featured in The New York Times
Real life, real challenges, real accomplishments