Here is a little bit about myself: First, I am Leci, I'm from Texas, and I say y'all at least 200 times a day, even if I'm only talking to one person. I came here to make a difference in a community setting, both directly with individuals and in a bigger picture.
I have a decent amount of experience in community service because I find it important to be a part of a community and to contribute to it as much as possible, whether that be through working a job or volunteering at places around a city.
At this moment I have lived in Portland for 2 months, and I still sometimes get lost if I go a street away from the Tivnu house. I've learned the transit system at this point, though. It leads to the illusion that this city is much larger than it actually is, because something that may be a 15-minute drive takes an hour and a half by bus. That's interesting.
Each week, I do basically the same things during the day. I work at three places, all of which are direct service, helping ease the lives of people around us. On Mondays, I work at Catholic Charities in an office that supplies resources to women and helps them find permanent housing and jobs. Most of the women I see come in everyday for food and socializing, as well as access to resources available at the time. I get to hear all kinds of stories. 90% of them are heart-breaking, knowing that I don't currently have it that bad: every day I go home to a bed, and I have food to eat and people to hug me or comfort me when I'm sad. I'm lucky to have that. I'm lucky to be here to have these experiences—I came here to make a difference and to see positive changes for people and in this one place I see a lot. Some days have a much better result than other days, but things are still getting better on a smaller level, even if it's for only one person that day.
Another place I work is Kenton Women's Village, a village of tiny houses, or pods, as most people call them. There are 14, and the whole thing is supported by the neighborhood. Everyone has income, buys their own things and is working to get a permanent house. I get to see changes there: people get permanent houses and move out, then new people come in to get assistance. None of these are quick processes. Most of these ladies have been waiting for years for someone to make a difference for them.
The last place I work is Zenger Farm. It has all kinds of different programs benefiting people of all ages and different situations. Some schools take field trips there: I've helped mainly with preschool or kindergarten, but I know that grades through even college come. The field trip includes a farm tour, tasting different things around the farm, and service learning, which is different depending on age and season. There's farm school, which is once a week for 6 weeks for 5th graders. And there's the homeschool program, which is preschool through middle school twice a week for 10 weeks.
Fridays are build days, when the Tivnu construction crew creates structures to improve the daily lives of people who need it. So far, we've worked at Hazelnut Grove and with Habitat for Humanity.
In one week I learn so much more than I could ever imagine, and I'm making a difference one step at a time in the community around me. I hope to learn a lot of skills I can use in the future to help in my own life. But for now, I'm glad to be helping out other people who need it, and I'm incredibly thankful to be a part of such a unique and amazing program.
Taking a gap year in the US can be as meaningful as doing one abroad.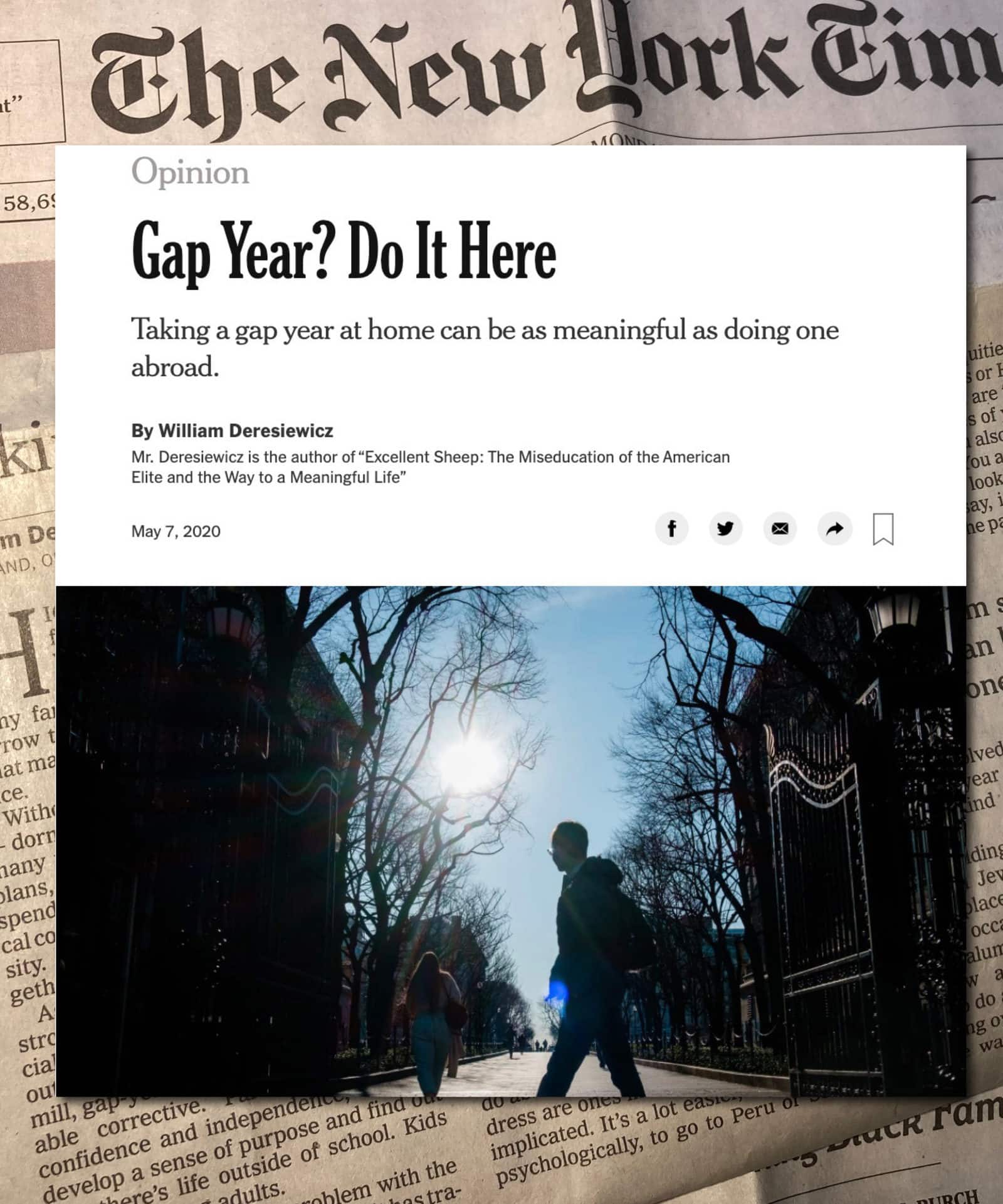 Featured in The New York Times
Real life, real challenges, real accomplishments