This blog post was authored by Talia Alpert, a member of the Tivnu 7 cohort from Chicago, IL. She enjoys watching movies, exploring new places, and writing her 23 pen pals. She interns at Portland Jobs with Justice and Tivnu construction.
I consider myself to be something of a hug connoisseur. I have always loved giving and receiving hugs, and I think I am a pretty good judge of them. Out of the hundreds, maybe even thousands, of hugs I have given throughout my life, the hugs from my fellow Tivnuniks are some of the best I have ever received.
So what makes the hugs I have gotten on Tivnu so special? To answer this question, one must look at several different criteria for what makes a good hug and why the ones I have experienced this year are the best (and it is not just because I was touch-starved coming out of quarantine).
The first quality that makes a good hug is the length of the hug. If it is too short, the hug can feel rushed and disingenuous. On the flip side, if the hug goes on for too long, it can feel extremely awkward. The hugs from my fellow Tivnuniks are almost perfectly timed. I chalk this up to the fact that communal living, especially in such close quarters, have made us all keenly aware of each other's body language, so we can tell when the right time is to end a hug.
The length of the hug goes hand in hand with the next factor, which is the timing of a hug. Sometimes, people may not want a hug at a certain time, or at all. The fact that we know each other so deeply, combined with the consent workshop we had earlier this year as part of orientation, makes the hugs that we give and receive always wanted, which makes them so much better.
The timing of a hug has everything to do with the type of hug that is being given. Over the three months I have been on Tivnu, I have received almost every type of hug. From quick greeting hugs to hugs of deep sadness, from hugs of utter joy to goodbye hugs. The cohort has been through the wringer, with everything from Covid to wildfires, and one way we have been able to cope with that is through hugs. Sometimes, when you need to cry, you need to feel held so a long, tight hug is what is best. When there is cause for celebration, the hug usually involves a lot of jumping and screaming, which only amplifies the happiness.
The final factor of a good hug is the tightness of the hug. In my opinion, this is the most important factor. It has everything to do with feeling held, which is exactly what should come from a hug. This Tivnu cohort knows the importance of feeling held and supported. Without it, we would not be as close as we are. I feel totally loved and supported by this group, and every time I hug another Tivnunik, this is reaffirmed.
The fact that the cohort gives such good hugs (or maybe the community that has both created those hugs and come from those hugs?) has made us feel infinitely closer to one another. And not just physically.
Taking a gap year in the US can be as meaningful as doing one abroad.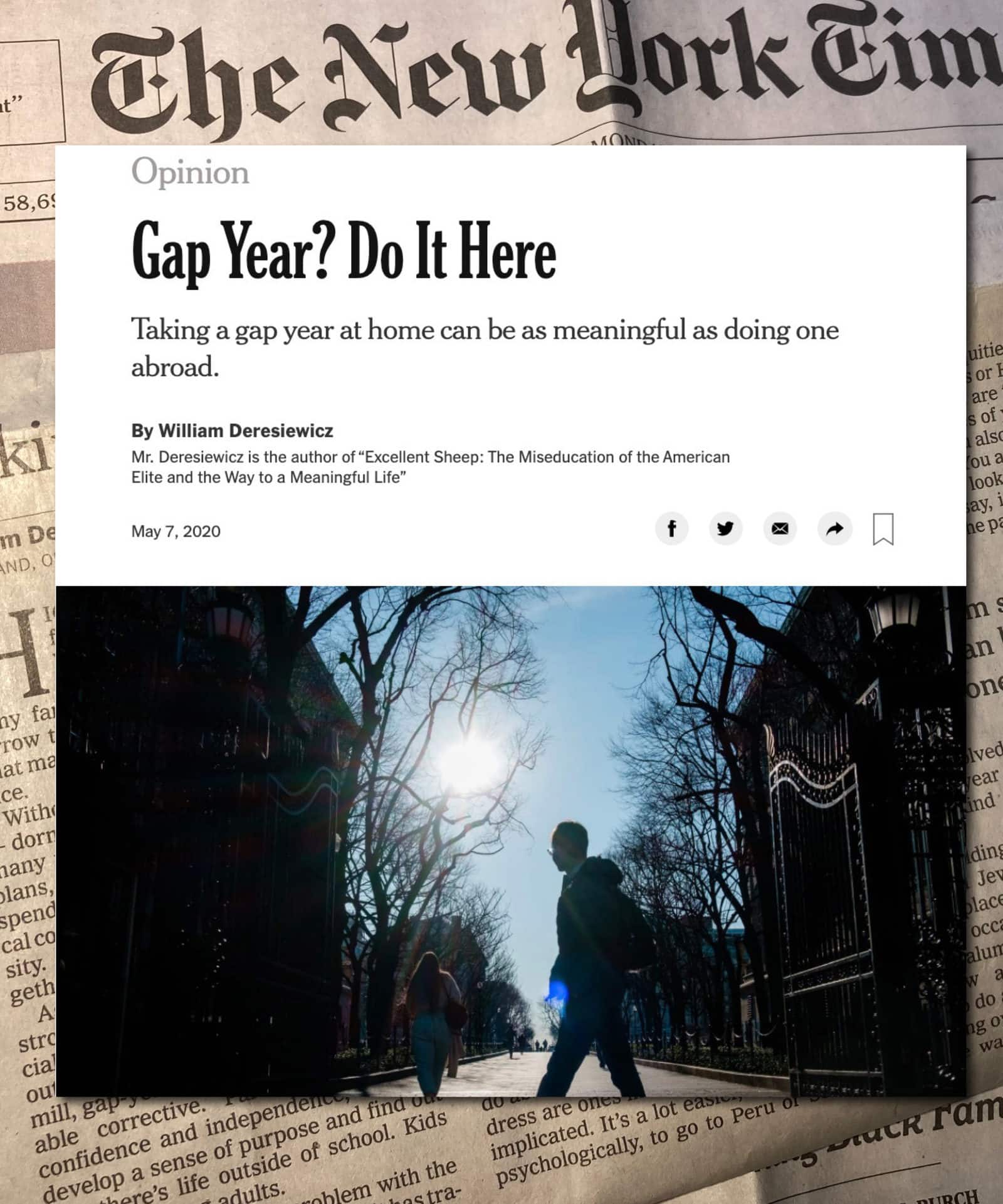 Featured in The New York Times
Real life, real challenges, real accomplishments