This blog post was written by Shira Feinberg in February. Shira is a Tivnu 8 participant from Los Angeles, California. She enjoys roller skating, growing indoor plants, and eating carrots. She is finding her place in the Portland community as a dog walker for her neighbors.
Earlier this year we went on our Mt. Hood Trip. When discussing the plan before we left, I was delighted to hear about the hot tub, game room, and boatloads of snow we would get to enjoy. But getting there was a different story.
Of course, while loading 20+ people into two white vans, with gear, food, and personal baggage was a feat in itself, nothing prepared us for the challenges we would face on the road.
The drive started off pretty reasonably, as we crunched on only the M & M's from our trail mix and listened to arguably too much SZA (I know, I also thought that was impossible to do). About an hour into the ride I started to peep snow on the ground outside the van's large windows. As an L.A. lady, I grinned and stared. I may have also recorded upwards of 5 videos of the snowy world as we passed by. The way it sat on the trees and floated down from the sky was truly magical.
I looked around at my van-mates, checking out their reactions. Were they as delighted as I? Then I noticed: My RA's hands tightly gripped the steering wheel. Their lips had just about disappeared into their mouth. I followed their eyes to the road, and finally saw. It wasn't just snow on the trees and the ground. The snow was also on the black pavement stretching out before us. The van was noticeably sliding. My hands wound around my Nalgene.
Shortly after, we pulled over to put on our snow chains. The only problem? Ours didn't fit. "Uhhhh – Steve?" I called our executive director, laughing nervously. Luckily we had another pair in the van. I tried to recall our training the week before on how to put the snow chains on. Thinking back, I remembered we had actually put them on wrong during our practice and had run out of time to do it correctly. My chest tightened.
But all around me, Tivnoodles were giggling and shouting. Snowballs flew through the air and a snow angel appeared. I took a deep breath and felt the lightness of being outside with everyone. Even though we were in a big van on an icy road and it was 20 degrees outside, the air still felt magical.
After we successfully put on the right chains, in the right direction, on the right tires, we loaded back up a little wetter and sillier than we had before. I changed the SZA song to a Raveena one and rested my head on the frosty window. At Tivnu, even hard things are fun. And they always make great stories. And for all of you who are curious, the hot tub was wonderful.
Taking a gap year in the US can be as meaningful as doing one abroad.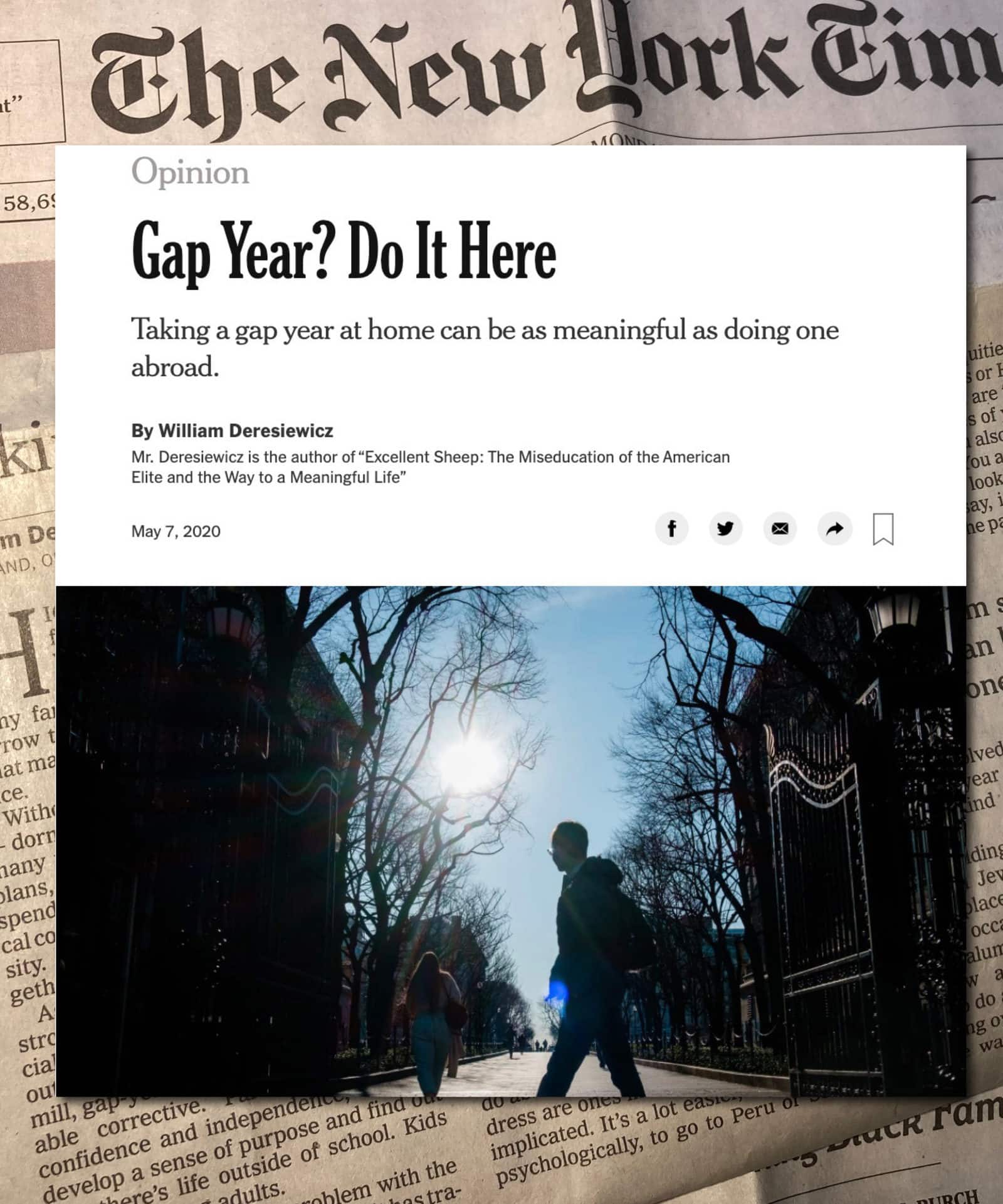 Featured in The New York Times
Real life, real challenges, real accomplishments