This blog post was authored by Daniel Azariah, a member of the Tivnu 6 cohort from Detroit, MI. When he's not watching U of M football, Daniel enjoys reading books in Russian, learning new languages, and making Sephardic foods. He interns at Verde Landscape, Sisters of the Road Cafe, and Tivnu construction.
Despite all the progress of the twenty-first century, systems of racial equality continue to lag far behind. I was fortunate enough to attend the 10th Annual State of Civil Rights Forum hosted by the League of Minority Voters (LMV) along with some other Tivnuniks a few weeks ago. LMV is an organization founded in 2007 by a multi-racial group of Oregonians who believe that "what affects one community affects all of us, and that the challenges that impact minority voters must be met with consistent advocacy from all people of conscience."
Every week, we receive a Tivnu schedule from Adinah, our program director, to help us be prepared for our week. It contains our internship schedule, what we're doing to celebrate Shabbat, etc., and it also contains important, local social justice related events. The LMV Civil Rights forum was one of them. I decided to attend. I found the Civil Rights Forum fascinating.
Since its founding in 2007, LMV seeks to help achieve equal rights for minority communities. The organization's motto is "Fighting for the advancement of minority voters through education and empowerment." Like many other groups around the country, LMV fights for racial equality. Racial injustice is a large-scale issue that affects everyone, from the church shooting in Charleston to the protests in Ferguson.
The discussions of the state of racial inequality in Oregon at this event hit particularly close to home for me as a Michigander. In Detroit, Michigan, where I grew up, communities of color are also struggling with their fight for equal rights, to pay for housing, and for fair treatment in the criminal justice system, just like they are here in Portland. I find it fascinating and shocking that, even after the civil rights movement in the 1960s, racism is still floating around our systems, striking communities at any given time. It's heartbreaking to see history being repeated.
Though I knew about racism on a national scale and saw it in Detroit, I never really registered how serious and widespread racial inequality was until coming to the West Coast for Tivnu. Events happening in Detroit and Portland are so similar. One example of racial imbalance that I find similar in Portland and Detroit is the immense amount of visible gentrification. From the first week in Tivnu, we've been learning about gentrification of Portland. One of the first Educational Explorations we did was a community showing of Priced Out, a movie that follows the story of a black woman who was pushed out of her home in Northeast Portland by gentrification. Even just walking around and exploring Portland after my internships, I can see the lines of gentrification and racial divide. In Detroit, too, I see more people of color out and about in areas that are visibly run down than in areas with luxury high-rise apartments or large single family homes. Now I understand better how that came to be.
Even though there are laws in place that forbid racial discrimination in housing and elsewhere, there are still many forms of racism in our country, from redlining to police brutality along racial lines. I see LMV's work as important because, with a stronger non-white voice in our political system, we're more likely to focus on and strengthen such laws. A legislative emphasis on these racial justice laws will cause people to evaluate their interpersonal actions, too. Through their advocacy and educational events like the Civil Rights Forum, LMV is helping make people realize that everyone needs to be treated with respect.
I know that LMV's and other organizations' work fighting to end racism is very difficult, however impactful. It takes a lot of time and effort to advocate for people's rights and to fight such large forces as racism. The organization advocates for racial equality primarily by educating and training people, with a focus on empowering communities of color to be civically engaged. LMV offers speech and debate training for students who want to enter the field of civic leadership, and they run school programs to promote interest and employment in science and technology. This is important because it gives youth from minority groups a chance to make their voices heard. Their long-term goal is for everyone in society to make decisions together instead of being a white-dominated voice in power.
I am fascinated by the work that LMV does. And they're one of many. I was curious about other organizations who were also combating this issue, so I did a simple search online. It proved, unsurprisingly, that there are hundreds of organizations fighting for racial equality. A lot of people care about and want to fix this issue of systemic racism. The kind of advocacy that these organizations do could help set a precedent on how everyone of all races should be treated.
The speakers at the LMV forum, all of whom were leaders in the community in the fight for civil rights, really communicated to me the weight of the issue of racial inequality. During the forum, there were times where I noticed the speakers would raise their voices with emotion to emphasize how important it is that treatment of minority groups, especially in policing and voters rights, be equal. Their passionate delivery made me feel like I not only need to educate myself, but also educate others about the unfair treatment of minority groups in our country. As a Jew, I agree with them! As the Torah states, "Do not take vengeance on nor bear any grudge against the children of your people, but love your neighbor as yourself: I am Ad*nai." (Leviticus 19:18) This passage states that everyone should be treated equally. Unfortunately, the part of "love your neighbour as yourself" isn't practiced enough.
Through this forum and other racial justice Educational Explorations, my time in Tivnu has helped me realize I can also bring the seriousness of this issue to those in my life who either don't know enough about it or who decide to ignore it because they think it's not worth their time. I can bring facts and ideas into our everyday conversations about how we can combat racism. Even though I have witnessed the unfair treatment of the black community firsthand in the Detroit area, attending this event, in conjunction with our Tivnu education about institutional racism, has definitely made me aware in a new way of how serious the injustice truly is.
Taking a gap year in the US can be as meaningful as doing one abroad.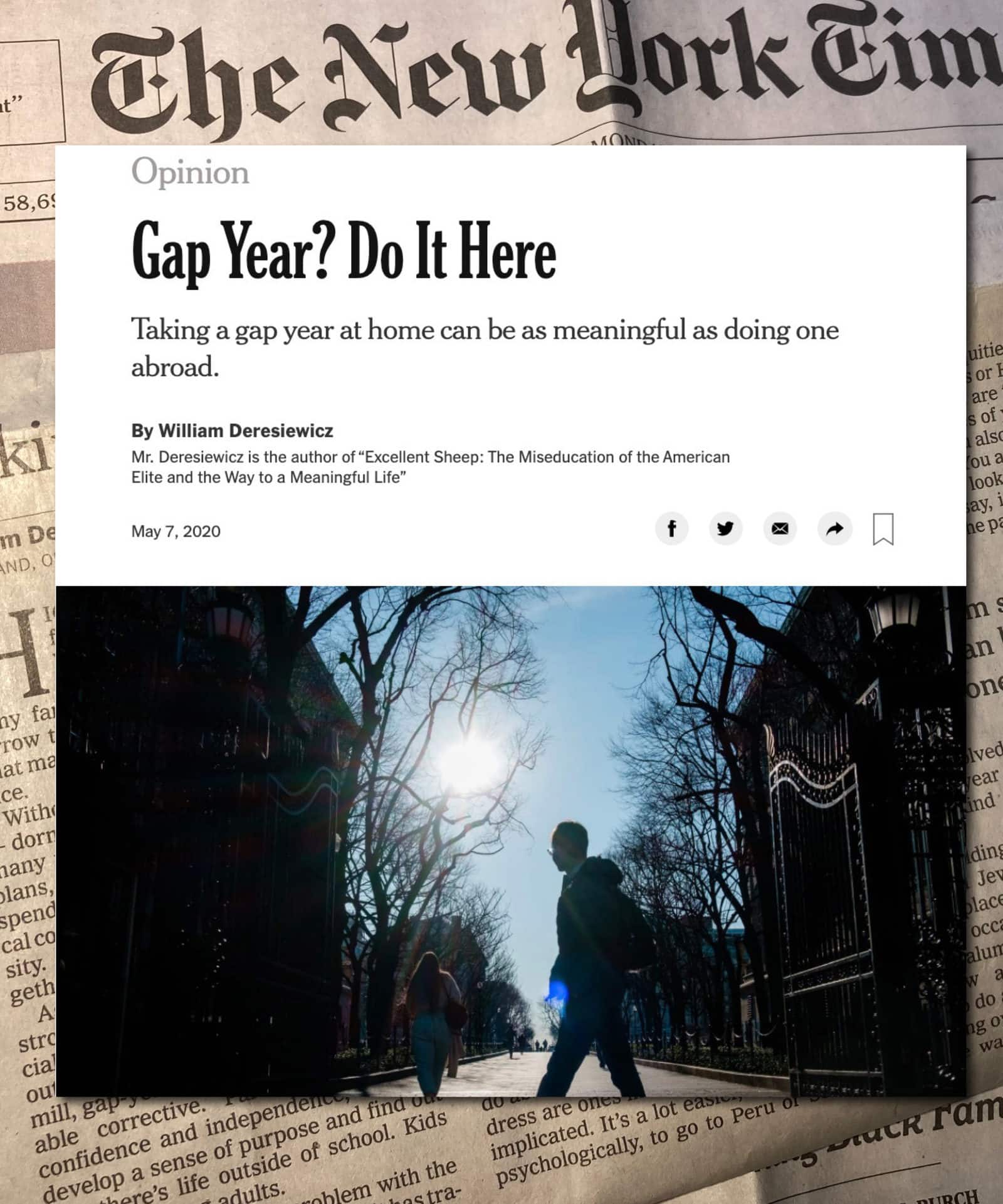 Featured in The New York Times
Real life, real challenges, real accomplishments