This blog post was authored by Micah Cohn, a member of the Tivnu 5 cohort from Atlanta, Georgia. When he's not reading legal briefs, Micah enjoys stand up comedy and hanging out with fellow Tivnuniks. He interns at the Lewis and Clark Criminal Justice Reform Clinic (CJRC), Sisters of the Road, and Tivnu construction.
In my last blog post, I provided a detailed overview of my work at Lewis and Clark's Criminal Justice Reform Clinic and my experiences there up to that point in the gap year. With a few more months of experience under my belt, and only a handful of work days left there, I reflect on the experience that perhaps has had the most impact on me.
No, it was not accompanying a law student to court to watch them represent someone for the first time, and it wasn't even witnessing my supervisor testifying at the state capitol to expunge the record of someone who'd been pardoned. Instead it came during my second trip to Oregon State Penitentiary (OSP). The first time I went to OSP, I stayed in the visitation area and I didn't really get to "see" the prison, or at least not what I thought prison would be. Admittedly, this was based primarily on what I had seen on TV and in movies. In reality, the visitation area felt almost more like a meeting area in a public school, a big open space with vending machines, beige cinder block walls, and a few small private meeting rooms on the perimeter. It was in one of those small rooms that I met someone who had a big impact on me, whom I wrote about in my last blog post. For confidentiality, I will call him "T." In our first meeting, T and I had a professional connection, while in the second meeting, we had much more of a personal connection, which I really appreciated and enjoyed. There was a lot more about my second visit to OSP that went much deeper beneath the surface than my first.
My second visit to prison was to attend a seminar about Measure 11 presented by Lewis and Clark law students to the "Lifers Club," a group open only to people with a sentence of 25 years to life without parole. Measure 11, approved by Oregon voters in 1994, instituted mandatory minimum sentences in the state of Oregon. The seminar took place in the activities area of the prison, which is located past many sliding gates, and is a place very few outsiders ever see. As soon as we got to the entrance of the activities area, T came out to greet the group I was with. I reached out to shake his hand because I was expecting to have another very professional experience with him, but he went in for a hug. I quickly adjusted to hug him back, which set the scene for the much deeper and personal connection we were about to have.
As we walked into the very large and very gray activities room (except for the mural of Mount Hood painted on the rear facing wall), I could instantly feel my eyes widen as I tried to take in my surroundings as quickly as possible. There were 100 inmates sitting there. T directed the law students to the front to sit with the other people who had come to speak on various issues having to do with criminal justice reform. He had me come sit with him, among the other inmates who had all come to watch the seminar. I felt very welcomed by everyone there. T introduced me to all of the people who were sitting near us, and he told them that I was the guy who was working on the syllabus for the class that the law students would be teaching. When he said that, I could immediately see all of them make the connection; they had clearly heard about the class and who I was from T before. After one of T's friends offered me a bottle of water, introductions started. Despite me not being at the front with all of the other presenters, T felt that it was important that I introduced myself into the microphone. I did that, though with much more excitement than I let on as I was still adjusting to my surroundings. T and I then began to discuss the syllabus and the revisions I had made to it. It was helpful to be able to talk to him one-on-one about it, instead of having to communicate through one of the lawyers with whom I work.
After the presentations were over, all of the people who came to present spread out around the room to have small group discussions with the Lifers about the topics they had presented on. I went to the table where the law students were sitting to talk about Measure 11, while T went to go catch up with some other presenters he knew whom he hadn't yet had the chance to greet. It was really interesting to meet more inmates, to hear some of them open up about their stories, and also to hear what they know about the criminal justice system (which is often a lot more than what I know). I had a really good conversation with an inmate about the US criminal justice system and the much more progressive and humane prison system in Norway, a topic I had recently been researching for one of the course topics.
Shortly thereafter, one of the corrections officers then called for "showers," which prompted most, but not all, of the inmates to leave the activities room. Unsurprisingly, T remained in the room. He and I found each other again so we could sit down and talk. He wanted to hear about the first blog post I had written. He had heard from one of the lawyers that I work with that I had talked about meeting him and the impact he had on me in the post. After I explained what the blog post was about and how he fit into it, he told me how much it meant to him to hear about the impact he made on me. He told me that he often forgets that he has the ability to have an impact on someone on "the outside" since he has been in prison almost half of his life. I assured him that I was not the only person he had made an impact on, and I told him about "The T Effect," which is something a lawyer I work with calls the feeling a person has after the first time they meet T.
When he asked how I ended up in Portland for the year (I told him I am from Atlanta), I started to tell him about Tivnu He thought that it was amazing that I was taking a year to do all of the work that I had been doing. I talked about how Tivnu has introduced me, either directly or indirectly, to people that I otherwise would not have the chance to meet and work directly with them. That's also something Zoe, my fellow Tivnunik, talked about in her blog post when she referenced how Bryan Stevenson says to "get proximate." T was also very excited that Tivnu and my internship at the Criminal Justice Reform Clinic helped me realize that I want to be a criminal defense attorney.
As I explained what Tivnu is, I started to really look around the space I was in. I started to really look around the space I was in, a subconscious association between Tivnu and my new understanding of how much we can miss what is happening in the world around us. I apologized for being distracted; he told me that there was no need to be sorry. He asked me if I would like an explanation of what I was seeing, and of course, I said "yes." Like I said, the room we were in was very large and very gray. Along the perimeter of the room were areas that were called "cages," a word I took extreme notice of. The cages were made out of a chain-link fence on all sides, including the top. I especially noticed that because these "cages," which sounds blatantly inhumane to me, are supposed to be an area of recreation and enjoyment. Each cage is the home of a different activities club. T gave me a tour of the room from where we were seated and explained what each of the different clubs did. A few of which were clubs of different racial groups at OSP, and some of them were more hobby based, like the music or sports club.
That conversation allowed us to learn about each other as human beings. After having a conversation that felt like it could have been between two friends at a coffee shop, he no longer was someone that I was kinda-sorta working on something with. I told him about myself, and he told me about himself. It was a very powerful part of an already very powerful experience. He made me feel welcomed and cared for in what can be a very unwelcoming place. T and I had what the Jewish philosopher, Martin Buber, calls an "I – Thou" relationship. By really being present and authentic, we acknowledged that we are each created "B'tzelem Elohim," in the image of God. Our connection, which would not have been possible had Adinah, Tivnu's program director, not placed me as an intern at the Criminal Justice Reform Clinic, allowed each of us to see the Divine in each other. When it was time for us to leave, I made sure I said goodbye to him. It felt like I was saying goodbye to a friend that I had known for a long time.
It is clear that T will have a lifelong impact on me. As I was walking out, I already looked forward to reconnecting with him, whether it be in person or by mail. I hope I have the chance to meet him again before my time at the Criminal Justice Reform Clinic comes to a close. And just like the first time I visited OSP, perhaps the hardest part of it all for me was leaving. I left knowing that, while I was able to walk out and live a free life, T, who is a lot more similar to me than I could have ever realized, would not be able to do the same.

I would like to give a special thanks to my friend T. He welcomed me with open arms, both figuratively and literally. I have learned so much from him in just the two times that I went to see him at OSP, and he was the inspiration for this blog post.

Taking a gap year in the US can be as meaningful as doing one abroad.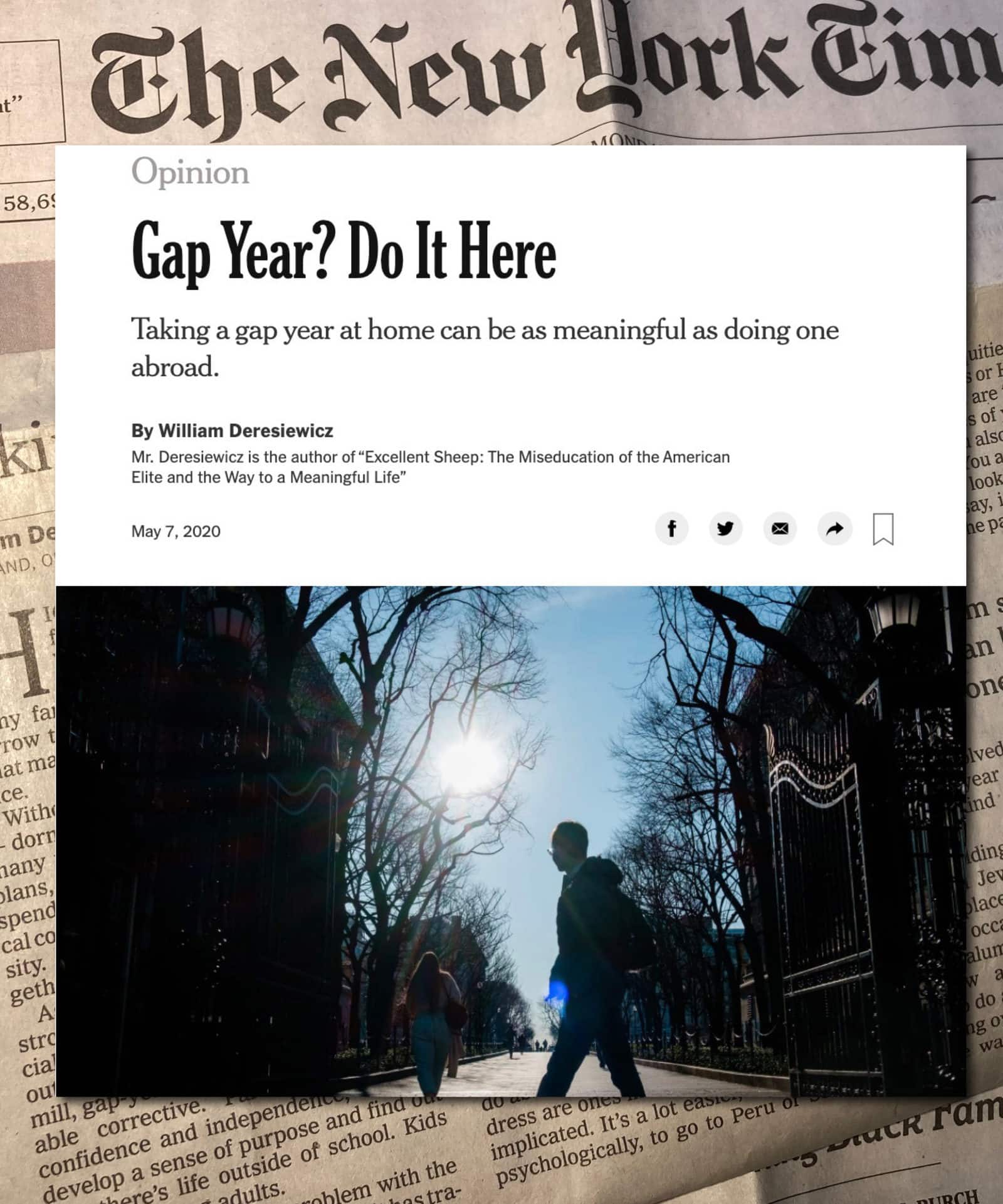 Featured in The New York Times
Real life, real challenges, real accomplishments