This post was authored by Ariana Finkelstein, a member of the Tivnu 4 Cohort, whose program ran from 2017-2018. Ari loves singing, Cheerios, and social justice. After her year with Tivnu, she went on to study at Mount Holyoke College, where she is currently a first-year student.
I'm incredibly fortunate to have had the privilege to participate in Tivnu; it was truly a life-changing experience. In just nine months, I learned so much about myself and the issues that plague vulnerable populations in society; issues I want to dedicate my life to working on. As an introvert and Jewish woman who is passionate about social justice and repairing the world, this program gave me the space to learn with other passionate people and develop skills such as team building, leading, organizing, how to articulate opinions on issues, how to deal with conflict, how to live with others, how to look at issues from a holistic perspective, how to reserve judgement and try to understand the factors that make it more challenging for certain populations to navigate our society, the list goes on.
While I kept myself busy in high school with numerous choirs and community service activities, as a quiet, quirky person, I was never super social and experienced a lot of teasing and bullying. For the first time, I found a group of people who accepted me for who I was, which was really quite beautiful. I'm incredibly grateful for the friendships I've made through Tivnu and for the opportunities I was given to explore my interests in social justice with hands-on experiences at social service organizations in Portland, Oregon. Tivnu is such a unique program, especially for young adults post-high school, in that it matches each student with meaningful internships based on their interests. I worked at an HIV center, a day shelter for women and children, and a non-profit café that works to provide nourishing meals for primarily houseless people. Through these immersing internships, I created such strong relationships with staff and clients and was able to really get a sense of the ways in which society needs to do better, in terms of our inaccessible healthcare system, food system, mental health system, transportation system, housing system etc. On Fridays, all of the participants came together with Tivnu's construction coach to gain construction/building skills and we worked together (primarily in a tiny house village for formerly houseless people called Hazelnut Grove) helping to repair and build where we were needed. I had zero construction experience before coming to Tivnu, so it was extremely fascinating for me to be introduced to all of the tool and skills and form relationships with people at Hazelnut Grove.
The educational programming, planned and led by Tivnu's brilliant program coordinator, allowed the nine of us to really engage with these social justice issues. We went to hear profound speakers, watched films, toured different non-profits, and many more interactive and accessible learning methods to expose us to these ills and brainstorm ways to combat them. As a busy high school student, I rarely had time to even think about things other than school. Tivnu's gap year program allowed me to explore some of my other interests. In addition to working at my internships and attending the educational explorations, I joined a local community choir, learned to knit, watched many musical movies, cooked and explored the wonderful city of Portland and the natural beauties that surround it. As part of the program, we went on several trips as a Tivnu family, where we went hiking, camping, white water rafting, snow-shoeing, cross-country skiing, saw gorgeous waterfalls, mountains, and exquisite wildlife.
I came from a Conservative (sect of Judaism) Jewish and politically liberal background, so it was really empowering and interesting to live with a group of people with varied perspectives, Jewish identities, social identities and interests. My peers taught me so much about the world and about the diversity of the Jewish community as a whole. Connecting secular social justice issues to Jewish values and concepts was really interesting. Being surrounded by so many different opinions and personalities, while challenging at times, really pushed me to celebrate our differences and realize that I can be great friends with even those who are most different from myself. I learned that our commonalities are stronger than our differences. That it's more important to step outside my comfort zone and try something new, something maybe a bit scary at first.
Now, as a first-year student at Mount Holyoke College in western Massachusetts, I feel so privileged to have experienced Tivnu, because it instilled in me so many life-long skills and values while also preparing me for my college experience. Tivnu allowed me to work on my communication skills and while I'm still working on them and probably will be for a long time, I feel a lot more comfortable than I did at the beginning of my Tivnu experience. I feel more comfortable expressing my opinion on a social justice issue, more comfortable talking in groups about things I'm passionate about, more comfortable living with a lot of people, more comfortable in engaging in conflicting situations etc. I would highly recommend Tivnu to any students passionate about social justice who feel they need a break from the stresses of traditional education for a year to explore their interests and gain valuable experiences working to make social change, while also building meaningful friendships and community.
Taking a gap year in the US can be as meaningful as doing one abroad.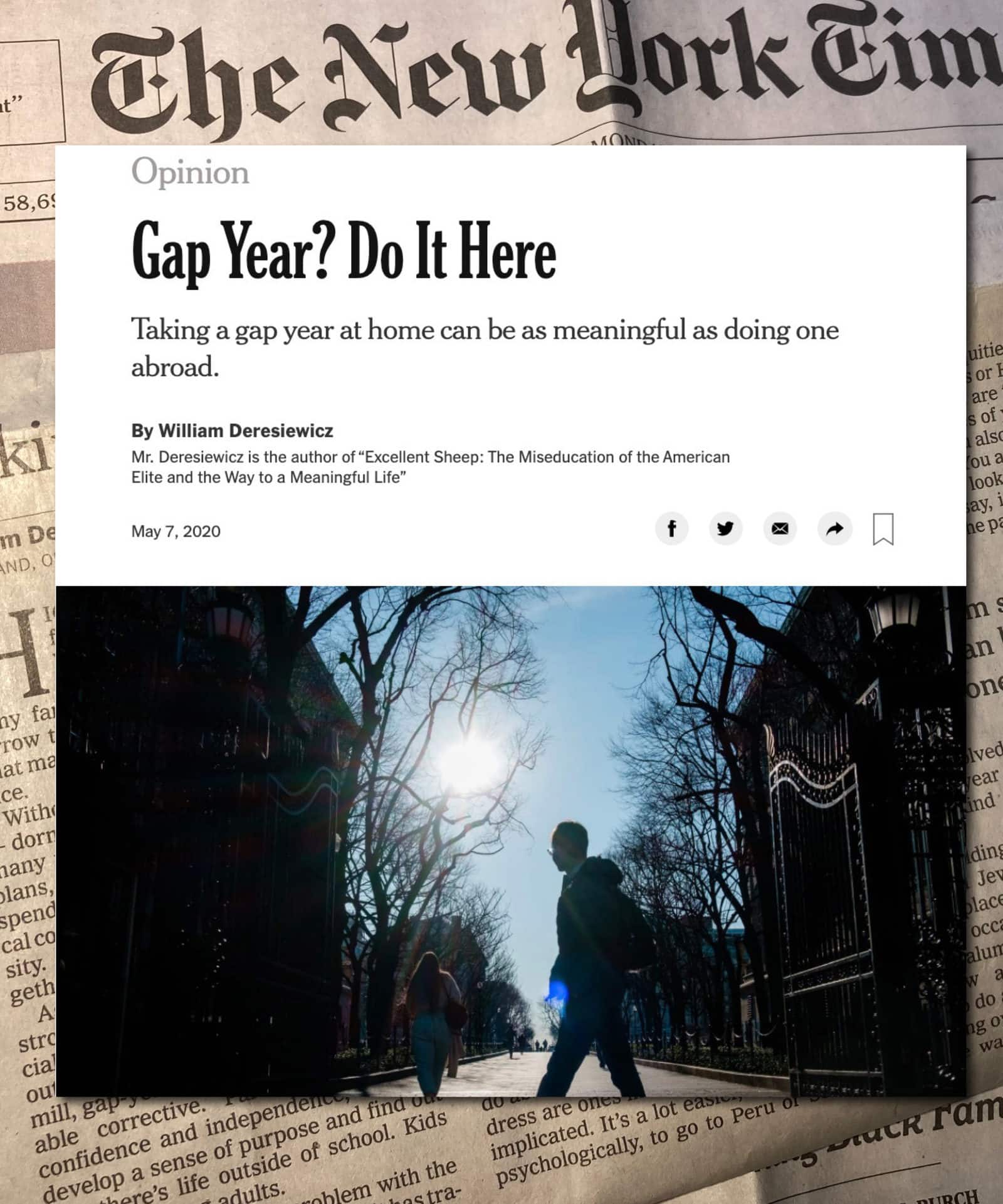 Featured in The New York Times
Real life, real challenges, real accomplishments