When my RA informed me that it was my turn to write a blog post, my initial reaction was one of violent stress. Tivnu is so chock-full of gloriously time consuming activities that sitting down and writing 5 paragraphs of text seemed like a monumental task. Seeing as I'm also required to submit a blog, however, skirting around my responsibilities was unfortunately not an option. Thankfully, Tivnu lends itself to storytelling-worthy adventures, so finding an experience to describe wasn't difficult.
My name is Calvin Lyster. While making art is one of my main hobbies, I felt attending college straight after high school wouldn't give me the satisfaction I need because I hadn't yet found a real passion. I joined this gap year program to interact with different kinds of people, experience living more Jewishly, and explore different paths of life. So far, I have definitely not been disappointed.
Recently, Tivnu traveled through the misty mountains to a campground in an old mining town. Apart from looking like it was straight out of a Western, it was full of exciting programs, peaceful spaces, and nature discoveries. Even the walk up to the cabins was peppered with little ornaments and relics of past mining years—including a full train, rusted and falling apart, cozying up to a crumbling, moss-covered brick wall in a clearing we passed. Dark, dripping tunnels into frightening nothingness curved into the mountainside, and I wondered how the original miners dealt with the brutal isolation that came with digging so far into the Earth's unforgiving surface.
Tivnu took up two cabins—predictably, since we make enough noise (and mess!) for 20 people. The electricity generated at the campsite came from a shack with a giant water wheel, meaning that we were only granted power some of the time. A good portion of the weekend was spent bemoaning the power outage for 5 minutes before it turned back on again and we all went back to our projects—until it would happen 20 minutes later. The communal cabin, apart from being a house of mayhem and flickering lights, served as a place for social hubbub, like Monopoly, an art circle, and group dinners, as well as America's Most Popular Sukkot Game Show: Guess That Fruit. The latter, of course, was a huge hit among the house, and many a laugh was shared as people discovered they could not accurately identify a pear without looking—proving that the things you learn on this gap year, obviously, are indispensable.
One of the most prominent events of the weekend, in my opinion, was the night hike, which consisted of a pitch-black, adrenaline-inducing stumble through dark woods to reach a bridge overlooking the river from which power to the whole site was extracted. Most of the journey was spent hollering "Root! Rock! Step down!" to the hikers behind us. I personally discovered most of the obstacles the hard way, but a near death experience definitely brings a gap year program on a weekend excursion closer together.
As I stood on the bridge in the night, looking up at the winking stars and down at the churning water, I thought of how lucky I was to be able to be such a part of nature as I was. I was merely a guest in nature's domain. I felt peaceful and thankful to the program that made it possible for me to see the world as I could. Tivnu's only just begun, however. There many more stars to gaze at, many more rivers to cross over, many more obstacles to overcome, but I have faith that I am in good hands.
Taking a gap year in the US can be as meaningful as doing one abroad.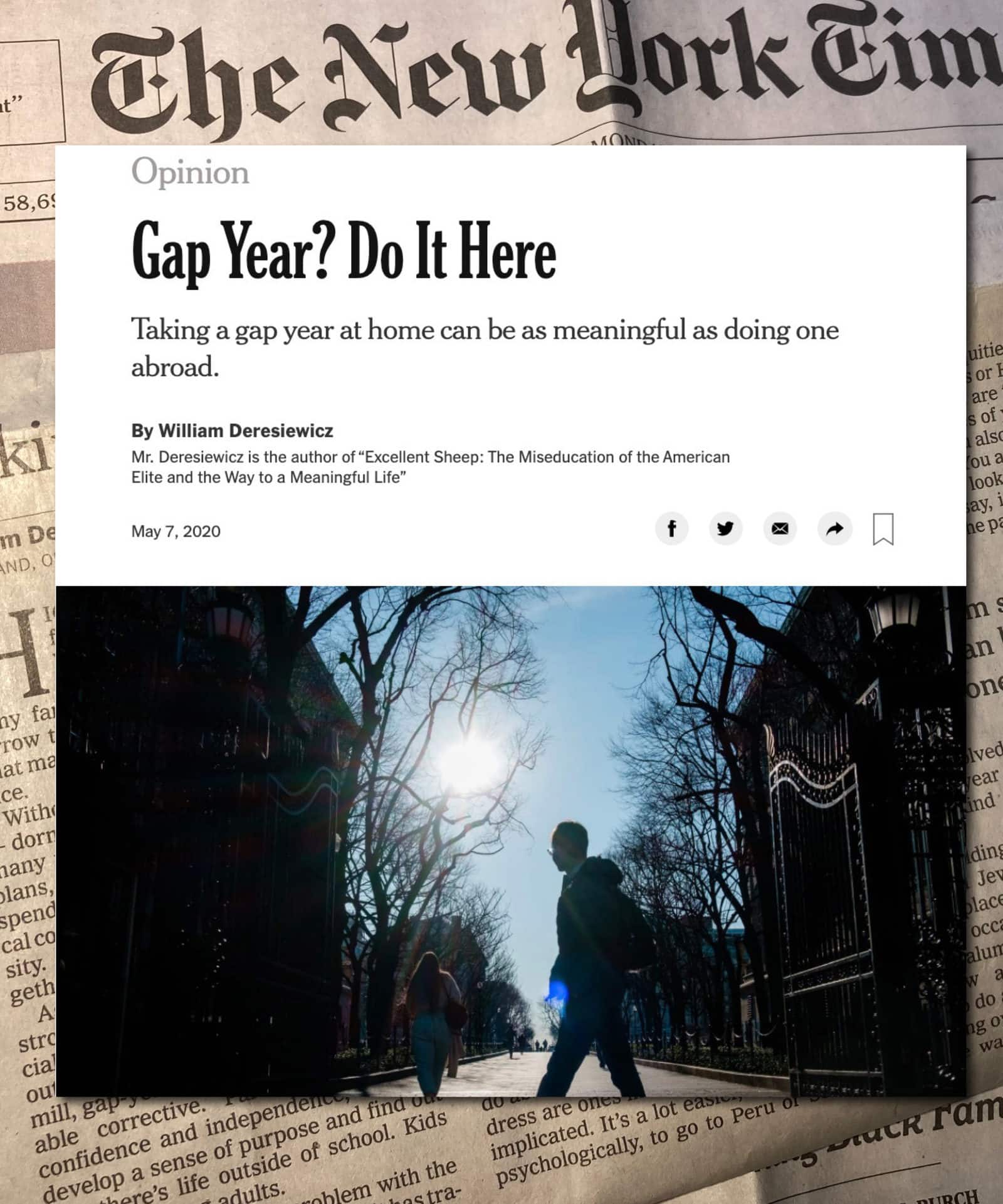 Featured in The New York Times
Real life, real challenges, real accomplishments