My name is Lauren Gerson. I am a dog loving vegetarian Jew from Southern California.
Last week we celebrated the Jewish holiday of Rosh Hashanah. Back home in LA, the High Holidays are always a big deal in my family. That is why it was hard for me to be away from my family for the first time during the holidays. I am used to my Rosh Hashanah family traditions being the same every year. We have Erev Rosh Hashanah dinner at my Bubbe and Zayde's house; I go to synagogue for hours both days of Rosh Hashanah. Then, in the afternoons, we go back to my grandparents' house to eat leftovers and take naps. After years of the same holiday tradition at the same synagogue, I knew having Rosh Hashanah in a new place would be a big change.
For the first day of Rosh Hashanah, my roommate Ari and I went to synagogue. It was a nice service. In a lot of ways, it felt like a service would at home, but it was not quite the same. Much of the time first day, I was left thinking about what I would be doing if I were there. I realized that any synagogue was not going to be exactly like mine at home, so the best thing to do is to try something completely new and different. It was a good thing we were given the opportunity to do just that.
For the second day of Rosh Hashanah, Ari and I went to a service in the woods. It was located near the base of Mount Hood. Once we arrived, we took a 25-minute hike to the location of the service. The forest looked like something out of a fairy tale, the trunks covered in green moss. However, before we reached the group, we hit a stream. The only possible crossing was a wobbly old log. Ari and I, both slightly terrified, had to conquer our fear, for the Jewish New Year.
Once we arrived at the gathering place, everyone was so welcoming and friendly. There were blankets and tarps on the floor for everyone to share. There were even adorable children and dogs. Surrounding us were gorgeous trees on every side and a view of a flowing river. We started out doing a service, but then we took a break for some yoga. We did everything from extending our bodies out to get as big as they can then compacting them to get as small as they can to using each other to balance in a circle. After we finished this unique yoga experience, we went back to praying. I have always felt more spiritually connected when I am around nature. I think that is why this service really struck a chord for me. Yes, it was weird, but so is Portland. I felt like I was experiencing a bit of Portland life, but through the eyes of the Jewish community. It was even more clear it was a Jewish gathering when we broke for potluck at the end.
Even though this was not the Rosh Hashanah I expected, I think it was the Rosh Hashanah I needed. It was unlike any Rosh Hashanah I had experienced before. It allowed me to open my eyes to see what it was like to experience new things on my own. My family traditions will always be in my heart, and I may even go back to them, but I will always leave room to learn about and experience new traditions as well.
Taking a gap year in the US can be as meaningful as doing one abroad.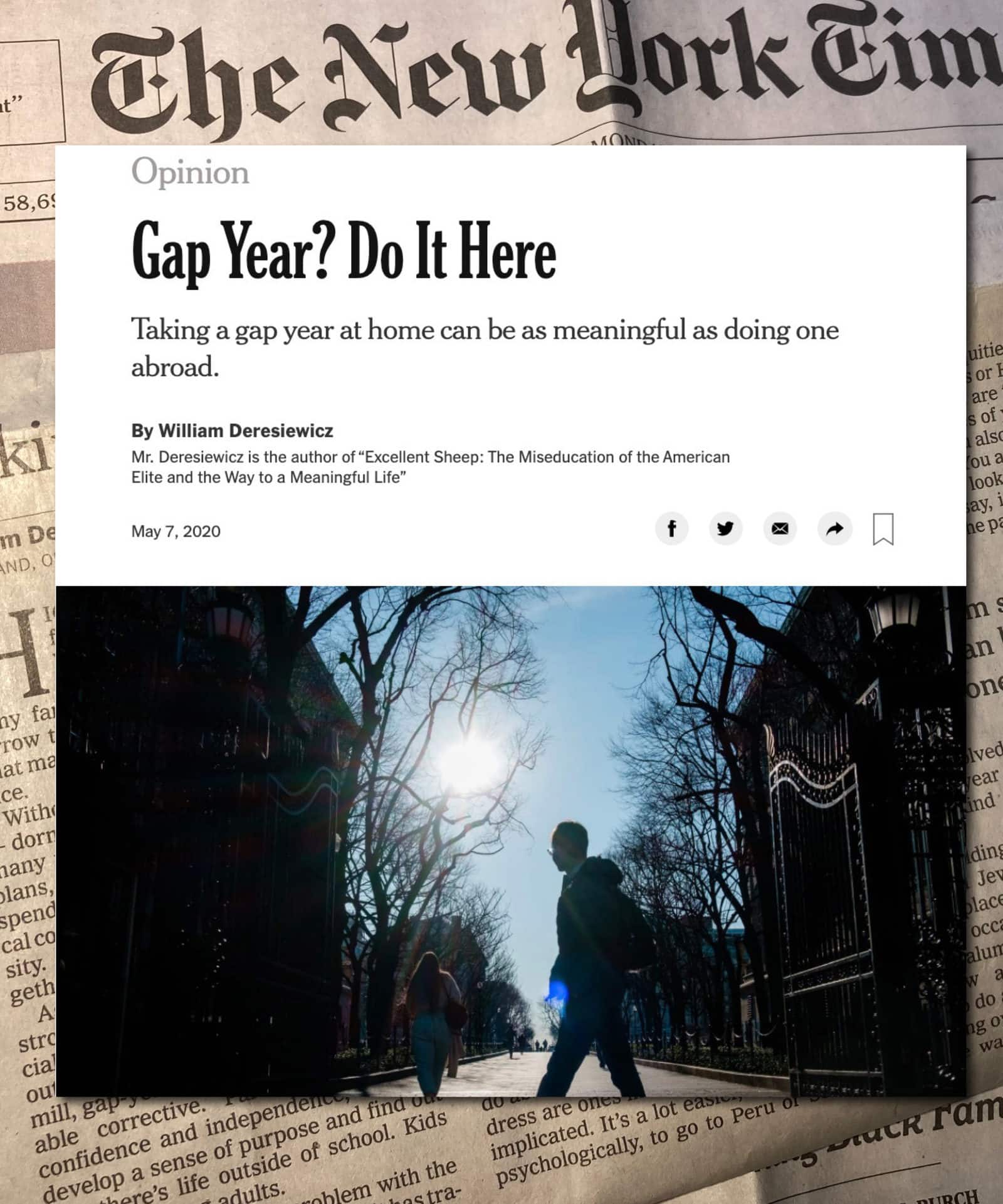 Featured in The New York Times
Real life, real challenges, real accomplishments