This blog is by Aaron Rosendorf, a member of the Tivnu 8 cohort from El Paso, Texas. He enjoys eating, sleeping, and eating more. Aaron is a strong advocate of raising Tivnu RA salaries. He interns at Unite Oregon and Tivnu construction.
I arrived at Tivnu excited by the upcoming opportunities that awaited. I was looking forward to the construction in the name of helping the houseless, internships with organizations I feel passionate about, living in a group house with energized peers, and so much more. Still, if there was something on my mind the most, it was the prospect of living in a new city. I came from the desert, so it was like a dream to be surrounded by lofty trees reaching up into the Portland skies and to have a wide river stretching through the city. Experiencing for the first time living a short bus ride away from downtown has opened up so many adventures, and it is a thrill going through the urban terrain searching through the nooks and crannies of a city that has so much to explore.
Our outings at Tivnu often start with a planned destination, whether that be the legendary Powell's Books or a cool gem and fossil store, but will often lead to different side adventures. One day out, making a turn into a tiny alley led us to a café called Blue Hill where the drinks are brewed, poured, and served by a robot. That same day, after further exploring, we found a record shop that sold cool album posters that now line Lance's room.
Still, if there is one spot that has always been a staple for me, it is the Saturday Market. Sprawled along the Willamette River, the Market is made up of tents filled with the work of local craftsmen and artisans. The Saturday Market is a unique part of the Portland experience (and, strangely, is held on Saturdays and Sundays).
While each participant has their own Shabbat traditions, Marina, Ansel, and I have made ours a trip down to the marketplace to explore the local art, music, and of course, the diverse local food. When there, you find an impressive variety of foods making it easy to dip into many different cultures' cuisine. A regular for me is Bao, which for the price and amount feels like a steal every time. Still, I make an effort every time to try a new food or beverage; most recently I tried a South African Iced Tea, sweetened in a way that I had not experienced before!
After just a few weeks here, and at this point hundreds of miles of walking, I am so grateful for the comfort that I feel in this new place, and I intend to fully take advantage of the time I have by trying new things, going into new places, and building friendships.
Taking a gap year in the US can be as meaningful as doing one abroad.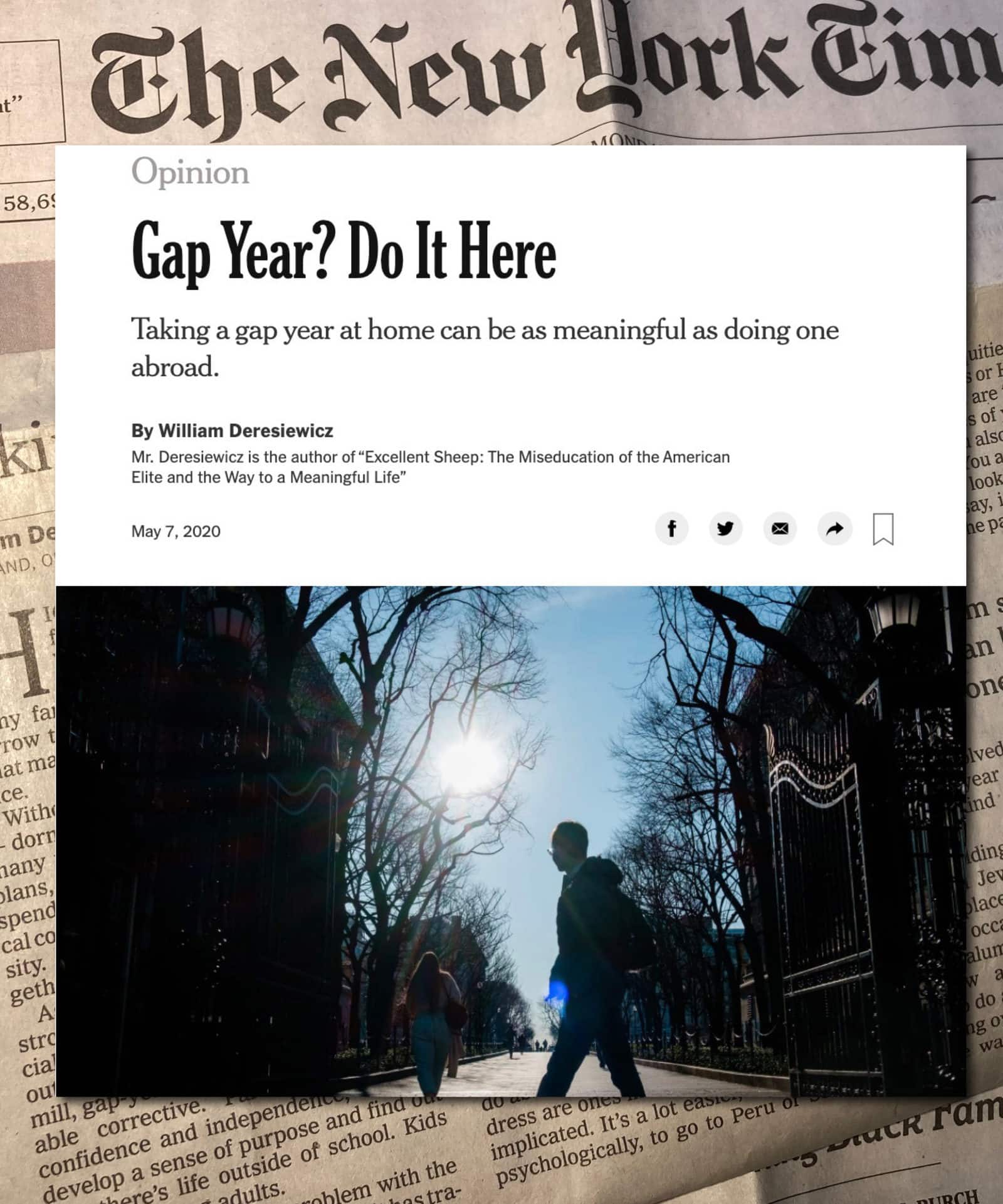 Featured in The New York Times
Real life, real challenges, real accomplishments