This blog post was written by Marina Hepler, joining Tivnu 8 from Foster City, California. Marina goes to the Portland Saturday Market every week and enjoys sampling from all the food carts, sniffing soaps made by local artisans, and pining over silver jewelry and baked goods. She is interning with Outgrowing Hunger leading their study on the carbon sequestration potential of regeneratively farmed soil from their own urban farms.
There are two couches in the living room in the 13th Avenue Tivnu house. One is red and pressed against the front window that looks out onto the porch. The other is gray and positioned against the entryway wall. Usually they're covered in blankets, and sometimes napping Tivnuniks. Right now there are blankets draped over them both – one knit and bundled in a heap on the gray couch, the other slung over the arm of the red one. I prefer the duvet – the one on the red couch. It's cozy.
Last night was quiet. I draped myself across the red couch and rested my head on Mimi while she played a game on Aaron's phone. Ansel leaned over Aaron's shoulder to watch, and Agatha was buried under a pile of blankets watching TV on the gray couch.
"Chief Chirpa-" Mimi said, poking at a button on the screen hovering over my head. "Him. The one with the hat."
"Chief Chirpa," Aaron complained. "He's literally useless."
"But he has a hat!"
They went back and forth for a bit until Aaron relented, preparing Mimi's team full of Ewoks for a fight. All the while I lay peacefully, my eyes closed. I listened to the house. Occasionally Agatha would shift under her blankets, but for the most part the evening was quiet, the house mostly empty save for the five of us and our RA, Abby, working in the kitchen. I listened to Mimi and Aaron battle their way through a few rounds of enemies, remembering the words I'd spoken to Mimi at her b'rachot (birthday blessings) circle a few months prior: "You are a campfire whose glow is both warm and far-reaching. I have never met anyone like you."
The way I see it, some people in groups are only warm for certain people, and to be in the cold nearby is a jarring and lonely experience. Another variant of group-dwelling person is friendly with everyone, but not particularly genuine with anyone. Mimi, Aaron, Ansel, Agatha, and everyone else here are rare examples of warm and vibrant flames near which I never feel cold.
On Saturday evening we played kickball in Irving Park. We staggered back to the bayit (house) in groups, laughing, adjusting our rainbow of glow-stick jewelry, and recounting the events of the night. I played a fantastic game, catching the final ball and winning the inning for my team. I hopped up the steps of the house with the big green ball under my arm, buzzing with excitement to text my dad about my rare show of athletic prowess.
Ten minutes later, full of ice cream and pleasantly exhausted, I flopped down on the gray couch. I tilted my face and rested my head on my elbow, and shut my eyes as a crowd gathered around the piano. At least six Tivnuniks huddled together in the tiny music room as Lance accompanied them on the piano. They "sang" (joyously yelled) Escape (The Piña Colada Song), Rocketman, Dream a Little Dream of Me, and many more, laughing between songs and shouting their requests. I thought dimly that they sounded like old men in movies serenading an empty bar. Like old friends.
That's what it's like here at Tivnu – new friends that feel as if we've known each other a long while. From day one we were draped all over each other – a bunch of teenagers whom Covid-19 had yanked from our daily lives and shoved into isolation, and now we are finally getting to hug. I'd feel comfortable singing in any room or embracing anyone in the house. Every single one of us is a soft place to land. I doubt I'll experience anything like it again.
Taking a gap year in the US can be as meaningful as doing one abroad.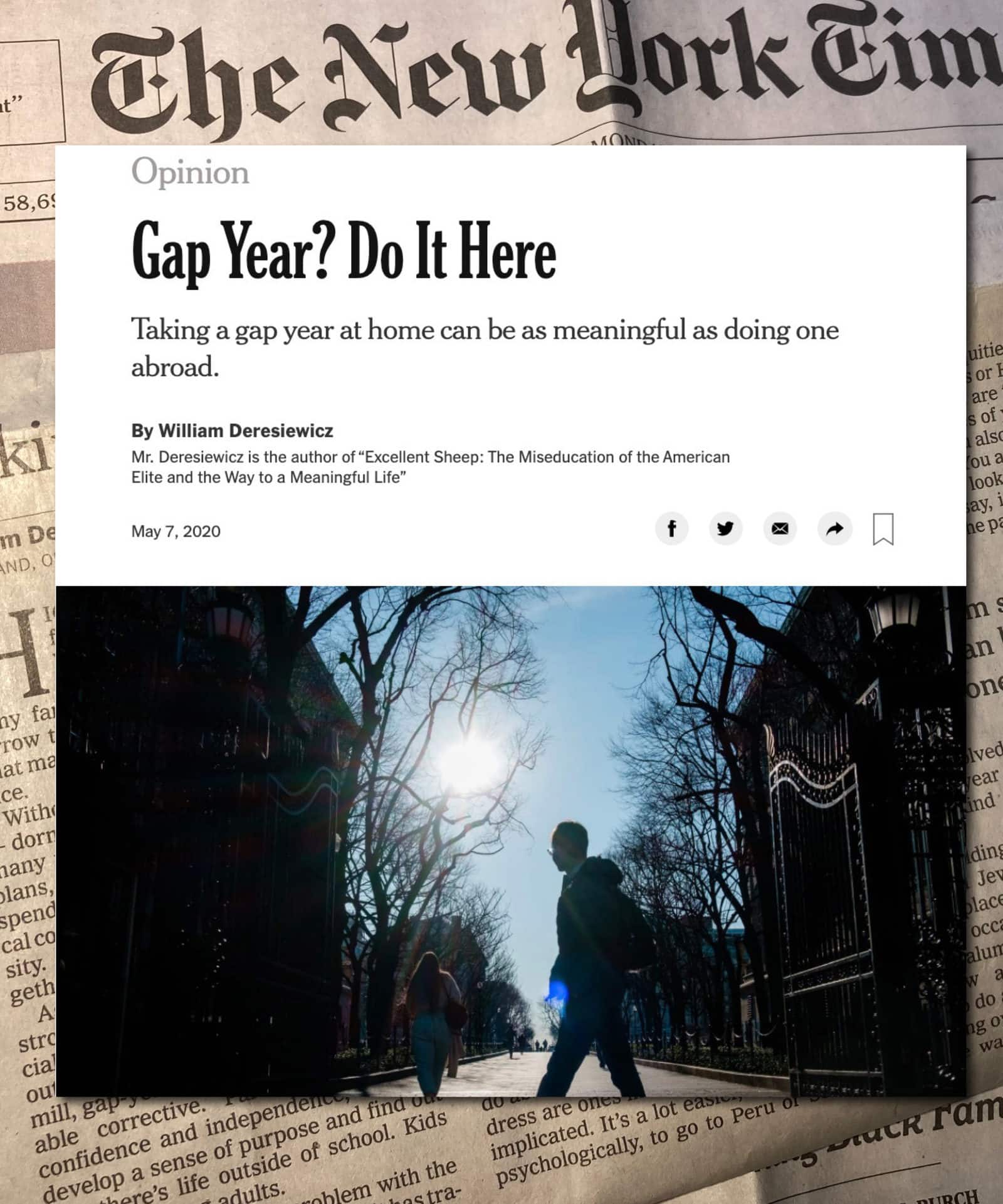 Featured in The New York Times
Real life, real challenges, real accomplishments